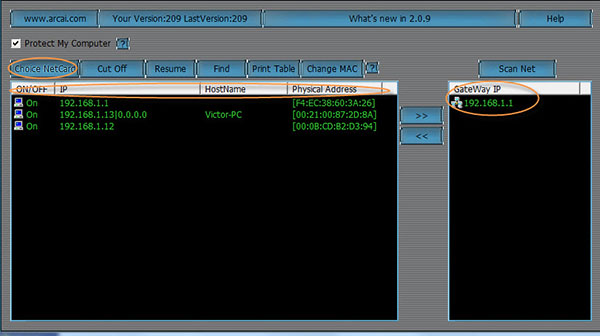 Netcut pro automatically scans your network and retrieves information on the connected machines, with dedicated tools to find a specific IP. NetCut Pro Apk v1.7.0 is the most popular wifi network control app for Android.
Netcut pro Overview
NetCut is a Tool helping Discover who is on your wireless/Wire network instantly. (IP/Device name/MAC address), Iphone/Xbox/Wii/PS3andriod/andriod. netcut is a free Windows tool designed to scan the computers in your network and provide information on every single machine.While you may find the interface a bit unprofessional, you need a few minutes to figure out where to start.netcut automatically scans your network and retrieves information on the connected machines, with dedicated tools to find a specific IP. With this app, you can just one click you can disconnect Internet access to that connected device.
A very good feature is the one that allows you to choose a different network adapter in case you're using multiple ones at the same time.The main window is being used to display the current status of a specific IP (on or off), the IP per se, the hostname and the physical address, which is actually the MAC address of a connected system.And speaking of MAC addresses, net cut also comprises a dedicated MAC spoofing tool that enables you to change the physical address of the selected network adapter with just a few clicks.
Unfortunately, the interface seems to be a major drawback, not only because beginners may get lost in it after launching the app, but also due to the fact that all buttons are grouped above the IP list panel.On the good side, however, net cut works like a charm on all Windows workstations and it doesn't seem to affect system performance at all, without even asking for administrator privileges when loaded on Windows 7.Overall, netcut is clearly a handy tool, but certain improvements are still needed to meet expectations. click the Below link to Download netcut.
With net Cut 3.0, you can know who has is or has been on your WIFI, his name, device brand, what time in, what time out.
- Speed Control !!!
- Automatic: See NEW unknown(guest) users in your network
- Click or Drag: Stop anyone access with one click or drag
- Schdule: Schdule anyone on/offline time per day
- Tablet suppprt: Support windows 10 tablet
- Cut Off ALL: One click cut off ALL (Pro member)
- netLock: Lock your WIFI network so no any new user can access. One click to release allow guest user access (Pro member)
- Records: View history records of who/when/name/brand been usig your WIFI and Left. (Pro member see full details)
- Geek play: Copy Mac
- NetCut Pro membership is only 1$ a month. or 9.9$ a year. Support paypal. If you pay via google pay at NetCut for Android, the Pro membership can be transfer to netCut Windows. Just need to login with username/password. To download netcut apk follow the below link. netcut apk pro needs membership.
Netcut pro Main Features
- Netcut Works in office LAN, school LAN/ISP LAN or or even Iphone/Xbox/Wii/PS3andriod/andriod network
- NetCut can Find/export all MAC address in your network in seconds
- NetCut can Turn off & on network on any device , computer/phone/xbox/wii/Router/switcher in your LAN.
- And netCut can Protect user from ARP SPOOF attacks
- More over netCut can Change MAC address on any adapter.
- Detect attacker, if anyone tries to play arp spoof to you
- Least but not last, With Netcut you can Clone MAC address from any device of your network to your own adapter.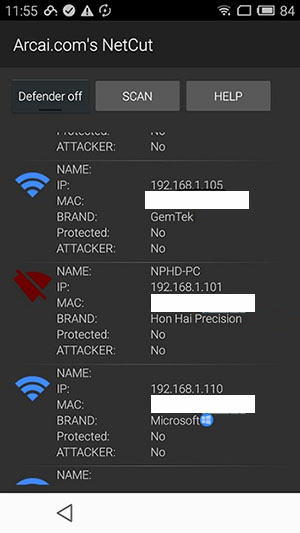 Download Netcut apk 1.7.0 for android here.
What's new in netcut Pro?
1. Speed control
2. Phone user report.
3. One click to limit ALL.
4. Chart Report by brand.
5. Search IP/Name/Brand
6. Slow scan
7. Random FAKE MAC
8. 3 way attack
9. Black List
10. Fast scan mode
11. netcut pro apk requires netcut pro account. NetCut require root to run, otherwise, it won't be able to run
What you can do with Android Netcut pro?
1. Quickly detect all network user in WIFI, even when your phone has no valid IP address or not been granted use WIFI internet. as long as you connected to any WIFI, arcai netcut can work.
2. Set on/off line to any network users, including phone/xbox,softphone, PS3, PS4 etc. one simple click on the network user.
3. Cut off network between two network users within LAN , by set one of the user as "gateways" , then cut off the other users, then those two users won't be able to talk to each other, eg: apple TV, Google TV, Xiaomi box , cut off the phone connection to those box, will disable screen cast like feature.
4. Netcut Defender built in. (turn on and off in one click)
5. Scan network when you feel there are users still on network and you can't see it.
6. Check phone type, netcut pro apk will be able list type of phones.
7. Set and remember user's name. so whenever this net work usr appear online again with you on same network, you know it's identity right away. Long press any network user, a pop up window will allow you input name for the user.
8. Detect attacker, if any one try to play arp spoof to you, you will be able to see who is attacking you from netcut directly. more oever, netcut will turn the attacker offline right away.
How to get Netcut pro?
-First you should uninstall old netcut on android, and REBOOT your phone.
- Download last version of
netcut pro
for android here
- Click on "Pro" tab
- Use your username and password login into Pro account
- You should see if your account status, first time user will get 15 minutes automatically. if it in good status (not expired), then you are good to use all Pro functions.
- If it is expired. just click on "Buy or Free extend" button. It will take you to a page where you can "buy or free extend". "buy" is currently not online yet, so you can click "Free Extend" —> "Extend PRO membership 15 minutes".
- After this, you should see your account status on this page shows "Good, expire time xxxx". then go back to netcut Android, —> Pro –> Refresh. Wohoo, all works
- Open to BUY soon so that no more ADs or Free extend button. just 1$ for one month.
What's mac address
MAC address is the physical address of net card. Operation system allow reset this address to a new value. Inside netCut, you can change Any adapter's physical address. The MAC address is fixed length string. example like: [06:21:00:87:2D:2A]
A Media Access Control address (MAC address) is a unique identifier assigned to network interfaces for communications on the physical network segment. MAC addresses are used for numerous network technologies and most IEEE 802 network technologies including Ethernet. Logically, MAC addresses are used in theMedia Access Control protocol sub-layer of the OSI reference model.
MAC addresses are most often assigned by the manufacturer of a network interface card (NIC) and are stored in its hardware, the card's read-only memory, or some other firmware mechanism. If assigned by the manufacturer, a MAC address usually encodes the manufacturer's registered identification number and may be referred to as the burned-in address. It may also be known as an Ethernet hardware address (EHA), hardware address or physical address. A network node may have multiple NICs and will then have one unique MAC address per NIC.
MAC addresses are formed according to the rules of one of three numbering name spaces managed by the Institute of Electrical and Electronics Engineers (IEEE): MAC-48, EUI-48, and EUI-64. The IEEE claims trademarks on the names EUI-48 and EUI-64, in which EUI is an acronym for Extended Unique Identifier.
How to Copy and paste so I can print ALl the IP addresses , MAC Addresses , Hostname in my LAN?
Click on the PrintTable Button , the Pop Up window bottom shows the Statics of all the Computer's IP, MAC addresses , Hostname. which you can do slect all and copy , so you can paste to some where else to print out. or even export to excel
How does netcut protect my pc works
When you check "protect my PC", netCut will ensure both Gateway and your own PC has the right ARP mapping.
Netcut keep alive APR message will keep Gateway and your own PC aware of the correct mapping, the netcut will detect any spoofing packet, and response with correction action immediately.
If you are running a Xbox/Iphone/MAC or any other smart phone device, and want to ensure your PC can talk to those device, simple way is to set those device's IP as gateway, and select "protec my PC" inside netcut.
How to change monitor network adapter within netcut
- Click on Choice netCard
- Select the adapter by looking at it's IP and Gateway setting, select the one you want to run NetCut on

What is Netcut-defender
NetCut-Defender is The only one tool can 100% guaranteed success protect you and your user away from arcai netcut cut.
To Download Netcut defender click here
It's a free tool offered by arcai.com to keep your network's (including WI-FI) internet speed super fast. protect your PC from ARP spoofing attack. typically arp spoofing from arcai netCut (which is another product of from arcai.com)
100% guaranteed internet connection speed stay fast.
Protect all your network connections including WI-FI in one place.
No setup configuration required. zero network knowledge required. install / run and forget about it. oh, maybe one thing will remind you, "how in the world my WI-FI/network could run so fast".
With this free little tool, now you can safely browse at free WI-FI internet at McDonalds or star bucks
It also come with a internet speed testing check . a Mac address Brand checker
NetCut Defender can do:
1. Easy to use, automatically protect all network of your PC away from Netcut cut off. or any other ARP spoofing.
2. Fast, Ensure Internet Gateway address spoof proof.
3. Safe, worry free. 24×7 running automatically.
4. No need configuration. no network knowledge required. no need to know any thing about your network. just run and enjoy the safe network.
Netcut Pro Alternatives
PowerPing
PowerPing is a lightweight command-line program that, in addition to letting you ping various hosts, allows you to obtain location info and customize the ping packet messages. Moreover, it colorizes the results for easier reading.
Offers the standard ping function, with a little something extra As expected, you can ping a target by simply entering its address, and it is also possible to specify how many pings should be sent, set the timeout time, time to live and interval between packages. The utility lets you ping the target until stopped, and you have the option of forcing IPv4. However, PowerPing also allows you to change the default ping message, and it colorizes the results based on their status. Because of this, it is much easier to find successful pings and timeouts when scrolling.
PortScan & Stuff
PortScan is an easy to use network scanner that can quickly check an IP range and return information about the alive machines.
Especially useful if you wish to check the details of your network's computers, PortScan is not quite a complicated program, although it's more or less obvious that it's not addressed to beginners.
Its clean interface relies on a tabbed layout, so you can easily access the feature you want with a single click.
Scanning the network is as easy as inputting the IP range, while PortScan takes care of the whole job for you. It scans all available ports and shows details such as MAC address, hostname, open ports and HTTP servers for each connected machine.
Additionally, you can also start a ping session and ping an IP address or a hostname, with three modes at your disposal: 3 short pings, large ping suite and continuously pigging.
Free IP Scanner
Free IP Scanner is a utility that aims to make life a bit easier for network administrators by offering some useful features to get information about the connected computers. The details include MAC addresses, NetBIOS information and even open ports.
Even if the interface seems somewhat outdated, it is certainly uncomplicated and provides quick access to all the functions. Everything is well organized and the lack of visual effects and fancy-looking menus is an advantage weighing in the favor of practicality.
You can define an IP range to scan and customize the process a little bit by mentioning the IP scan maximum threads, the IP scan and port scan timeout values. Plus, you can choose to scan only a given port or multiple ones, it all depends on your needs.
Wireless Network Watcher
Wireless Network Watcher is a lightweight Windows application designed to display all connected computers to your wireless network, along with detailed information about each of them.
Although it may sound a bit like a task addressed to more experienced users, Wireless Network Watcher makes everything pretty easy to use, mostly thanks to the interface.
Wireless Network Watcher
WiFi Network Monitor is a simple, yet efficient application whose main purpose is to conduct a discovery operation for your Wi-Fi connection(s). It is able to scan a given IP address range in order to detect all the hosts connected to a wireless network so that you can identify intruders.
Quickly perform a network scan
The scan process takes very little time and the results can be exported locally, for later reference. All audiences can make use of it, on account of its simplicity and user-oriented interface.
You are advised to pay attention during the installation process, as the setup may include third-party applications that are not related to the program's functionality. The best course of action, in this case, is to decline these offers.
Netcut Pro defender Change log
Support Real time view of "who cut me",
Support change gateway/change network on fly. (i.e) when you switch WIFI network from Starbuck to mcdonalds network, you don't need restart netcut defender.
"network change reload/Gateway change reload". when you switch WIFI network from Starbuck to mcdonalds network, you don't need restart netcut defender. to ensure your netcut defender has the right information (it does when you do restart The app, but I want it to be better that can do without restart)
Conclusion
To conclude Netcut pro works on Windows operating system(s) and can be easily downloaded using the below download link according to Freeware license. Netcut pro download file is only 2.9 MB in size.
Netcut pro was filed under the Networking category and was reviewed in softlookup.com and receive 5/5 Score.
Netcut pro has been tested by our team against viruses, spyware, adware, trojan, backdoors and was found to be 100% clean. We will recheck Netcut pro when updated to assure that it remains clean.
Netcut pro user Review
Please review Netcut pro application and submit your comments below. We will collect all comments in an effort to determine whether the Netcut pro software is reliable, perform as expected and deliver the promised features and functionalities.
Popularity 10/10 - Downloads - 999 - Score - 5/5

Softlookup.com 2023 - Privacy Policy
Category:
Networking
Publisher:
arcai.com
Last Updated:
12/09/2019
Requirements:
Windows 10 64 bit / Windows 10 / Windows 8 64-bit / Windows 8 / Windows 7 64 bit / Windows 7
License:
Freeware
Operating system:
Windows
Hits:
4887
File size:
2.9 MB
Price:
Not specified
Name: *

E-Mail: *

Comment: *