What is the best Video Editor Software for Windows
Young people nowadays have great passion for Video editing and they need an easily way to share their work on YouTube or other social media platform. One can use smartphones too to edit and create videos, but if you want to produce professioanl looking and stylish videos with amazing visual effects then you need to look for the best professional editing software. Now the big question is, how to choose the right video editing software for you.
Video editing software are widely spread on the internet and choosing between them is not an easy task, so first you need to check what video format will work for your project. So look for the Video editing software that enables you to export common used video formats like MP4, MOV, MKV, etc. Second you need to check for the user-friendly interface that save you a lot of time from learning and getting familiar with the program.
In this article we will present a list of the top Video editing software for beginners and pros with an an overview of what you can expect from each video editor.
1- Adobe Premiere Pro CC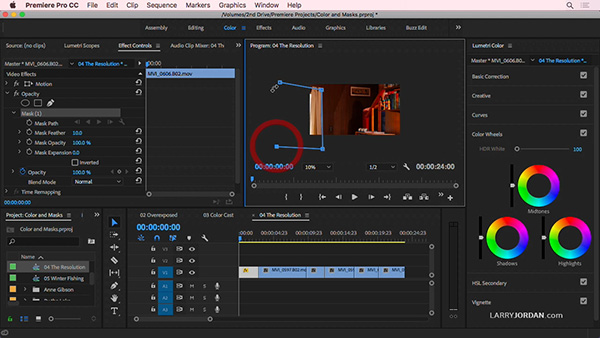 Adobe Premiere Pro CC is the leading video editing software for film, TV, and the web. Creative tools, integration with other Adobe apps and services, and the power of Adobe Sensei help you craft footage into polished films and videos in one seamless workflow. And Premiere Rush, our new app, is included with your subscription so you can capture footage and start editing on all your devices, anywhere.
Premiere Pro is the industry leader for editing everything from fast-turn TV series to feature films. Integrated, efficient workflows let you polish your work without leaving your timeline. And automated tools powered by Adobe Sensei speed up time-consuming tasks, so you can focus on your story.
Edit footage in any modern format, from 8K to virtual reality. Broad native file support and simple proxy workflows make it easy to work with your media, even on mobile workstations. Delivering content that's optimized for any screen or platform is faster than ever.
Adobe Premiere Pro supports high resolution video editing at up to 10,240 × 8,192[10] resolution, at up to 32-bits per channel color, in both RGB and YUV. Audio sample-level editing, VST audio plug-in support, and 5.1 surround sound mixing are available. Premiere Pro's plug-in architecture enables it to import and export formats beyond those supported by QuickTime or DirectShow, supporting a wide variety of video and audio file formats and codecs on both MacOS and Windows. When used with Cineform's Neo line of plug-ins, it supports 3D editing with the ability to view 3D material using 2D monitors, while making individual left and right eye adjustments.
Along with tools for color, audio, and graphics, Premiere Pro works seamlessly with other apps and services, including After Effects, Adobe Audition, and Adobe Stock. Open a Motion Graphics template from After Effects or download one from Adobe Stock and customize it — all without leaving the app. And Premiere Pro integrates with hundreds of partner technologies.
Price:
Adobe Premiere Pro CC requires an ongoing Creative Cloud subscription of $19.99 per month with an annual plan, or $29.99 per month on a month-by-month basis.
Platform and System Requirements:
Windows 7 with Service Pack 1 (64 bit) or Windows 8.1 (64 bit), or Windows 10 (64 bit); a multicore processor with 64-bit support; 8GB of RAM (16GB or more is recommended); 8GB of hard-disk space; a 1,280 by 800 display
On macOS, you need version 10.11, 10.12, or 10.13; a multicore Intel processor with 64-bit support, 8GB of RAM (16GB or is more recommended); 8GB of hard-disk space; a 1,280 by 800 display
Format Support:
Premiere Pro supports 43 audio, video, and image formats—pretty much any media of any level of professionalism you throw at it, and any media for which you have codecs installed on your computer. That even includes Apple ProRes. The software also supports working with native (raw) camera formats including those for ARRI, Canon, Panasonic, RED, and Sony.
2- Final Cut Pro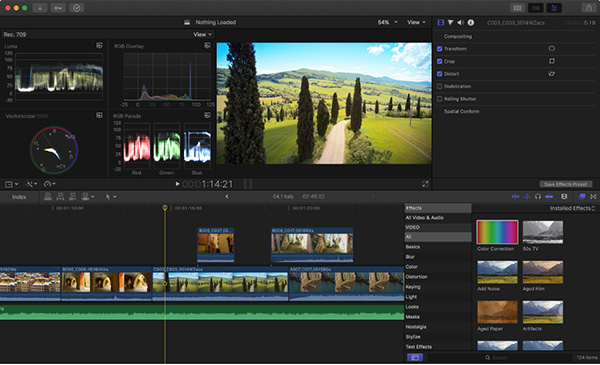 Final Cut is a montage program Final Cut Pro ( in English: in Final Final Cut Pro , ) is a series of a series of video editing software non - linear, It was developed by Macromedia and later by Apple, running on all Mac OS Macs. The latest version of Final Cut Pro is 10.3.4, works on all Macs, At a later time version 10.10 was released. The program allows users to record and transfer videos to the hard drive (internal and external), Where it can be edited, processed, and output to a wide range of formats. It was written entirely by Apple for 2011 with the latest version of Final Cut ProX at the beginning with version 7.0.3.
Since early 2000 developed and worked on its expansion database used large, For future filmmakers and filmmakers. He also achieved successes with film and television editors who were hungry for video editing technology. According to a 2007 study, Final Cut Pro has solved 49% of the US job market, There is also a study published in 2008 by editors of the American Film Guild, Final Books Pro reached among users by up to 21%. The Final Cut Pro software is compatible with all formats including DV, HDV, P2 MXF (DVCProHD), XDCAM And also with the purity of the film formula, which reaches 2K, 4K, 5K. Supports many video tracks simultaneously, can edit and mix sound and insert some effects and other tools into one, You can also edit videos in your own way.
There are many wonderful and beautiful features in this program as the interface of the program has many interfaces and many windows through which you can edit and format Pick things you want in an easy and beautiful way and chain.
Price:
Apple Final Cut Pro X costs a flat, one-time price of $299.99. That's a massive cut from the price of its predecessor, Final Cut Pro 7
Platform and System Requirements:
Apple Final Cut Pro X requires macOS 10.12.4 or later, 4GB of RAM (8GB is recommended for 4K editing, 3D titles, and 360-degree video editing), OpenCL-capable graphics card or Intel HD Graphics 3000 or later, 256MB of VRAM (1GB recommended for 4K editing, 3D titles, and 360-degree video editing), 4GB RAM, and a discrete graphics card.
Format Support:
Final Cut recently added support for the HEVC codec used by not only many 4K video cameras, but also by Apple's own newest iPhones.
Like Premiere, Final Cut supports native formats from all the major video camera makers, including ARRI, Canon, Panasonic, RED, and Sony, as well as a slew of video-capable still cameras.
3- Lightworks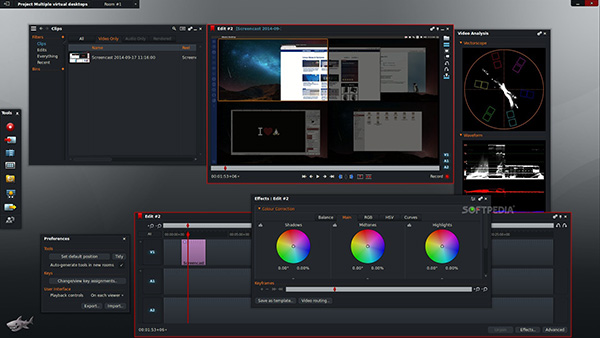 Lightworks is a professional non-linear editing system (NLE) for editing and mastering digital video in various formats, including 2K and 4K resolutions, and television in PAL, NTSC, and high-definition formats.
Lightworks is a great free video editor featured with many video effects. It can edit up to 256 video, audio, and still image clips. You can use it to edit YouTube video and 4K films. Speaking of 4K, you can use proxy for smooth 4K video editing experience. The latest full release of Lightworks has over 500 features and improvements added. The vast amount of new features includes improving our support in the high end production arena with support for RED digital film cameras. Lightworks allows you to continue editing whilst you are importing a batch of material, rendering your complicated third party FX or exporting two files at the same time to your favourite format. Lightworks also has a realtime GPU pipeline architecture, designed from the ground up to deal with compositing and effects.
Price:
The pro version costs $25 a month
Platform and System Requirements:
Windows, Mac or Linux.
Format Support:
ProRes, Avid DNxHD, AVC-Intra, DVCPRO HD, RED R3D, DPX, AVCHD, H.264, XDCAM EX / HD 422
4- E4dius 9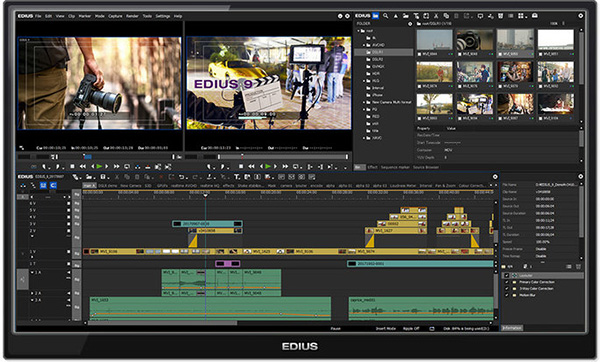 EDIUS 9 announced features support for a complete HDR workflow, ranging from import , through colour correction, to export to broadcast standards.
With its superior real-time technologies, videos with different resolutions and frame rates, including 4K, HD and SD, can be edited comfortably on a single timeline, allowing native editing of various formats without conversion. You can mix SDR and HDR material and output in either color space for broadcasting and Web distribution. Additionally brings support for Cinema RAW Light format, and more native support for formats aimed more towards professional cinema rather than broadcast. Moreover, high-level image production is possible utilizing photo RAW files for the different camera makers as well as Cinema DNG and DPX files.
Price:
EDIUS Pro 9 costs $499
Platform and System Requirements:
Windows 7 (64-bit) SP1 or later, Windows 8.1 (64-bit), Windows 10 (64-bit) (version 1607 or later).
Multiple CPUs and/or multi core CPUs are recommended.
Ram: 8 GB or more
Format Support:
ProRes, DNxHD, DVCPRO HD, AVCIntra DPX, AVCHD, H.264
5- Cyberlink PowerDirector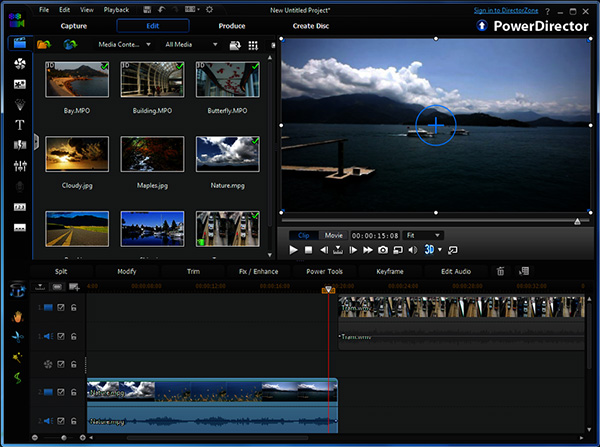 PowerDirector offers a unique combination of high-end performance and advanced editing features. It's remarkably easy to use, making video editing accessible to creators of all skill levels, and a huge selection of customizable design tools. PowerDirector delivers professional-grade video editing and production for creators of all levels. Whether you're editing in 360˚, Ultra HD 4K or even the latest online media formats, PowerDirector remains the definitive Windows video editing solution for anyone, whether they are beginners or professionals. With Express Projects, you can pick from a huge range of ready-made templates complete with effects, transitions, animations, and music. From there it's simply a matter of adding your clips to the timeline and clicking 'Produce'! Everything you need to edit, correct and enhance your action footage. The essential toolkit for working with action camera footage. With a range of professional-grade tools built specifically for flawless precision editing, you can turn any footage into high-quality productions with minimal effort. PowerDirector has held the title of world's fastest video editing software for several versions. Powered by the 64-bit TrueVelocity engine and with the support of OpenCL, multi-GPGPU acceleration and latest hardware acceleration technology, making PowerDirector video editing software among the best for HD and 4K video rendering. PowerDirector supports end-to-end Windows video editing of 4K and 2K UltraHD video formats. With resolution up to 3840 x 2160, you can create crystal clear videos at resolutions four times higher than FullHD. PowerDirector also supports popular formats like JPEG, PNG, and GIF as well as a host of RAW profiles and the latest HEIC file format. The PowerDirector Windows video editor includes 25GB free storage space on CyberLink Cloud that allows you to access and work on your creative projects from anywhere.
Price:
Director Suite cost $129.99 per year
Platform and System Requirements:
Microsoft Windows 10, 8/8.1, 7 Service Pack 1 (64 bit OS recommended), 2GB required (6GB or above recommended)
Format Support:
MVC (MTS), VOB, MKV, AVCHD, MPEG-4 AVC (H.264)
6- SONY Vegas Pro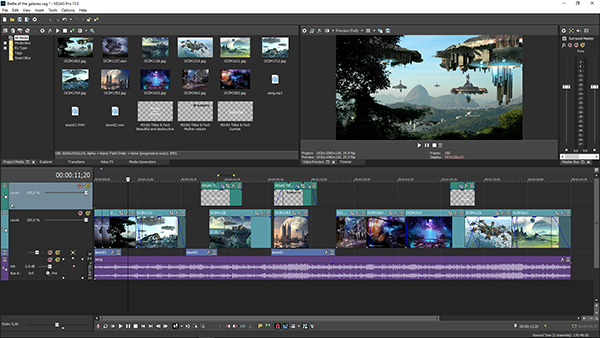 Sony Vegas Pro is a video editing suite aimed at professionals needing to produce high-quality HD videos. This Professional version includes some features which are missing from other versions
Sony Vegas Pro is comparable to other industry standard video editing packages such as Adobe Premiere or Final Cut Pro but follows Sony's own workflow logic which is a little different to both Premiere and Final Cut.
You may, therefore, struggle at first if you've only tried the latter, though Sony Vegas Pro is well documented with a very detailed manual. Sony Vegas Pro offers support for pretty much everything a professional needs including the ability to import media from multiple devices (including HD video), use more than 300 filters and special effects, specific tools to work with text layers and subtitles and easily optimize image quality.
The Sony Vegas Video interface follows a standard video editing interface. There are several windows to preview your media and current work, as well as a timeline to organize the various audio and video tracks. The best thing about the Sony Vegas Video interface is that it's totally customizable: you can freely open, close and arrange the program's diverse modules to best suit your needs.
VEGAS Pro once again stands out as an innovative leader when it comes to non-linear editing. The modern user interface delivers a completely customizable experience that provides the ultimate in flexibility. Designed to directly support your preferred workflow, these UI innovations enhance the fast, organic timeline-editing workflow that VEGAS Pro invented. The new version comes loaded with powerful new video editing features to help you work faster, smarter, and more creatively. It delivers on every level, with more flexibility, more power, and more professional features. VEGAS Pro latest versions added new tools and features like Motion Tracking, Video Stabilization, HDR Support and 360° Media editing. They also offers exclusivly in VEGAS PRO 16 SUITE 700 effects from proDAD VitaScene and Boris FX Continuum Lights Unit.
Price:
SONY Vegas Pro cost $1,198.00
Platform and System Requirements:
Microsoft Windows 7 (64-bit), Windows 8 (64-bit) or Windows 10 (64-bit) and 8 GB RAM minimum (16 GB recommended; 32 GB recommended for 4K)
Format Support:
AVI, BMP, MPEG-1, MPEG-2, MPEG-4, WMV, HEVC
7- DaVinci Resolve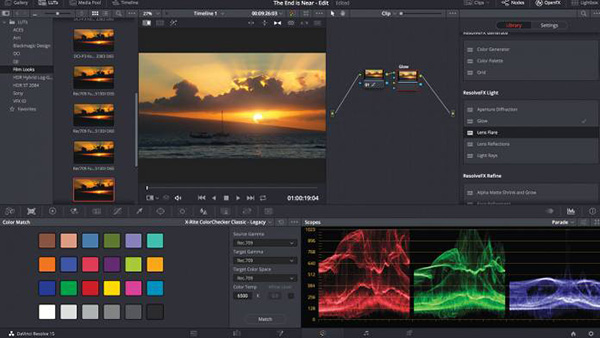 Blackmagic Design DaVinci Resolve Blackmagic Design DaVinci Resolve offers a variety of tools for professional video editing and color grading along with a built-in visual effects toolset and robust audio editor. Built directly into DaVinci Resolve, Fusion is a 3D workspace with tools for keying, compositing, stabilization, tracking, vector paint, rotoscoping, text animation and even particles.
Fusion lets you work in a full 3D space (with cameras, lighting and shaders) and do particle effects, warping, keying, color correction, painting and a whole lot more. Now that it's embedded in DaVinci Resolve, you can work with multiple clips directly from the Edit timeline and quickly see them in context with the rest of your program.
You can instantly move between editing, color, effects, and audio with a single click. DaVinci Resolve Studio is also the only solution designed for multi user collaboration so editors, assistants, colorists, VFX artists and sound designers can all work live on the same project at the same time! Whether you're an individual artist, or part of a large collaborative team, it's easy to see why DaVinci Resolve is the standard for high end post production and finishing on more Hollywood feature films, television shows and commercials than any other software.
In this version of DaVinci Resolve, you can now have multiple timelines open in tabs, much like Premiere Pro. This is a great feature and makes navigation much easier. Additionally, Blackmagic Design added stacked timelines so you can look at both timelines at the same time. This is helpful when trying to manage multiple revisions on a single project.
In the new LUT Browser, you are able to preview a LUT before applying it. A cool aspect of this feature is that you can change the preview thumbnails to show the footage you're working on.
The new DaVinci Neural Engine uses machine learning to enable powerful new features such as facial recognition, speed warp and more. Adjustment clips let you apply effects and grades to clips on the timeline below, quick export can be used to upload projects to YouTube and Vimeo from anywhere in the application, and new GPU accelerated scopes provide more technical monitoring options than before.
Price:
DaVinci Resolve Studio 15 costs $299
Platform and System Requirements:
Mac, Windows and Linux
Format Support:
M2TS, MP4, MXF, PRORES, DNXHD, MXF, DPX, CIN, EXR, MOV
8- Pinnacle Studio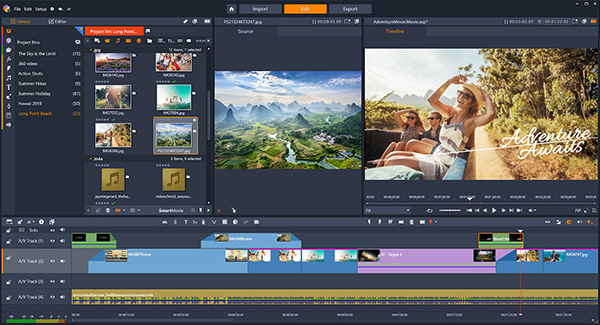 Pinnacle Studio is fully loaded with features you would expect to find in professional video editing software. Enjoy new Color Grading controls, create immersive 360 videos, sync and capture video from multiple devices, superimpose people over backgrounds with the Green Screen Effect, or even create animations with Stop Motion. With all these pro-caliber editing tools, you have everything you need to put your strongest film-making foot forward! Features vary by version. Pinnacle Studio Ultimate offers more options compared to other consumer video editing software packages we've tested, making it very attractive for amateurs looking for a bigger-than-usual creative toolset. Below are the new features introduced in the latest version:
New color-grading tools, including color correction, color wheels, LUTs, and a waveform scope.
Multicam with screen record as one of the angles.
Three and four-point editing
Motion Split Screen video with keyframes
Seamless transitions
3D Motion Objects
Price:
Pinnacle Studio 22 Ultimate csots $129.95
Platform and System Requirements:
64-bit OS required: Windows 10 recommended, Windows 8.x, Windows 7 and 4 GB of RAM or higher, 8+GB highly recommended for UHD, Multi-Camera, or 360 video
Format Support:
AVCHD,MPEG-1/-2/-4, MOV, HEVC (H.265), XAVC, MXF, DVCPRO HD, XAVC S
9- Filmora pro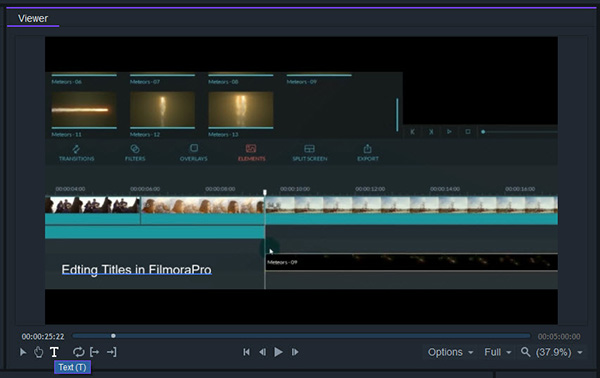 Filmora Pro is a video editing software service built for starters who would like to spend less time understanding the basic functionalities of a video editing software, and focus more on their task of creating and editing videos. With the capability to support editing of videos at up to 4K resolutions, the video editing software is described as very affordable, equipped with both video and audio tools, and provides users many opportunities to apply effects, styles, and customization into their videos.
FilmoraPro offers a huge range of frame rates and resolutions all the way up to 4K UHD at 100 frames a second. It's even possible to set custom resolutions and frame rates. Also available are preset options for Instagram and other projects with a vertical video aspect. Changing some of these options requires a restart of the software, though this took under 10 seconds with my set up, a refreshing change.
One of the most desirable features of Wondershare Filmora is its split screen functionality. With this feature, users will be able to create videos with multiple clips and footage that are played in the same video simultaneously. To do this, users need to select the split screen icon located at the left of Wondershare Filmora user-interface.
Filmora Pro also supports GPU based rendering which can make it work even better both in terms of quality and time. Filmora supports 4K UHD quality @ 100 FPS and goes as low as 24FPS in its Instagram template. You can chooseAspect ratio from the templates as well which include Square Pixel, NTSC, PAL, HD Anamorphic, DVC Pro and so on.
Price:
Filmora pro costs $119.99 billed Annually
Platform and System Requirements:
Microsoft Windows 10 (64-bit), Microsoft Windows 8 (64-bit).
Apple: macOS 10.14 Mojave, macOS 10.13 High Sierra, OS X 10.12 Sierra. At least 4 GB RAM
Format Support:
AVCHD (M2T, MTS, M2TS), MP4 (AVC/H264 & AAC), MPEG-1 & MPEG-2 (TS, PS, MPE, MPG, MPEG, M2V) , MXF (DVCPro HD), MOV (Pro-Res and Cineform)