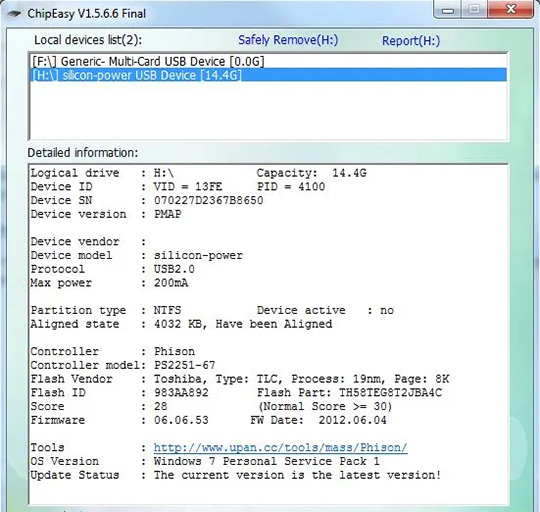 ChipEasy USB Utility 1.5.6.6
ChipEasy : A simple-to-use application that provides important data about your USB devices (e.g. volume, total space, VID and PID values, serial number), while allowing you to copy the information to the clipboard. You can carry it whenever you need and it will still work
Understanding ChipEasy USB Utility and its Benefits
USB flash drives have become an essential tool for storing and transferring data. Whether it's for personal use or professional purposes, having a reliable and efficient USB flash drive is crucial. That's where ChipEasy USB Utility comes into play.
ChipEasy USB Utility is a powerful software tool designed specifically for managing and optimizing USB flash drives. It serves as both a flash drive information tool and a flash drive testing tool, providing users with valuable insights into the performance and capabilities of their USB devices.
With ChipEasy USB Utility, users can easily access detailed information about their flash drives, including manufacturer details, controller chip models, firmware versions, and more. This knowledge allows users to make informed decisions when purchasing new flash drives or troubleshooting any issues they may encounter.
Furthermore, ChipEasy USB Utility offers comprehensive testing capabilities to ensure the reliability and functionality of your USB devices. It allows users to perform various tests such as speed tests, capacity checks, error scanning, and even low-level formatting. By identifying potential issues early on, users can take proactive measures to prevent data loss or device failure.
The benefits of using ChipEasy USB Utility are abundant. Firstly, it empowers users with valuable insights into the inner workings of their flash drives, enabling them to make informed decisions when it comes to storage solutions. Secondly, its testing capabilities provide peace of mind by ensuring that your data remains safe and secure.
ChipEasy USB Utility is an indispensable tool for anyone who relies on USB flash drives for their daily data management needs. Its ability to provide detailed information about your devices coupled with its comprehensive testing features makes it an invaluable asset in optimizing the performance and longevity of your storage solutions. Since ChipEasy is a portable program, it is important to mention that it doesn't leave any traces in the Windows Registry. You can copy it on any USB flash drive or other devices, and take it with you whenever you need to gather information about your USB device on the fly, without having to go through installation steps. ChipEasy basic utility can show details about a USB device including version, model, etc. through a compact and exhaustive interface.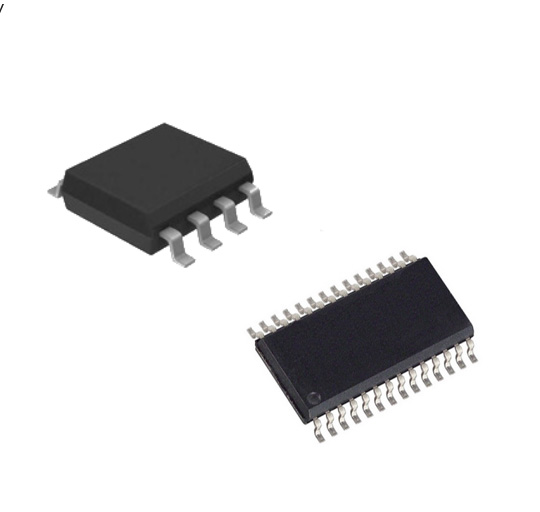 The Key Features of ChipEasy USB Utility and How to Use Them
ChipEasy USB Utility is a powerful tool that offers a range of features to analyze and retrieve information about USB flash drives. Whether you're a tech enthusiast, IT professional, or simply someone who wants to understand their USB devices better, ChipEasy has got you covered.
One of the key features of ChipEasy is its ability to provide detailed chip information. By connecting your USB flash drive to your computer and running the utility, you can quickly retrieve essential details about the chip inside. This includes manufacturer information, model number, firmware version, and more. Having this level of insight can be invaluable when troubleshooting issues or verifying the authenticity of your flash drives.
You can view information about your USB device, such as available space, manufacturer, serial number, model, version, maximum power, etc.
You only have to connect your device so that the software immediately starts scanning your device and displays information instantly.
Another standout feature of ChipEasy is its capability to test USB flash drives. With just a few clicks, you can initiate various tests to assess the performance and reliability of your device. These tests include read and write speed tests, as well as an examination for any potential errors or bad sectors on the drive. By conducting these tests regularly, you can ensure that your flash drives are functioning optimally and identify any potential issues before they become major problems.
Using ChipEasy is straightforward and user-friendly. Once installed on your computer, simply connect your USB flash drive and launch the utility. From there, navigate through the intuitive interface to access different features such as chip information retrieval or testing options. The utility provides clear instructions along with visual aids to guide you through each step.
In conclusion, ChipEasy USB Utility offers an array of valuable features for analyzing and managing USB flash drives effectively. Its ability to retrieve detailed chip information and conduct comprehensive tests ensures that users have full control over their devices' performance and reliability. Whether you're a tech-savvy individual or an IT professional looking for an efficient tool in your arsenal, ChipEasy proves to be an indispensable companion in understanding and optimizing your USB storage devices
- Retrieving Detailed Information about Your Flash Drive
When it comes to retrieving detailed information about your flash drive, having access to the specifics can be incredibly useful. Whether you're a tech enthusiast or simply looking to troubleshoot an issue, understanding the inner workings of your flash drive can provide valuable insights.
One key aspect of gathering flash drive details is obtaining information about the flash memory controller. This component plays a crucial role in managing data storage and retrieval processes within the device. By accessing details about the flash memory controller, you can gain a deeper understanding of how your flash drive operates and potentially diagnose any performance issues.
Additionally, retrieving information about the NAND chip used in your flash drive is equally important. The NAND chip is responsible for storing data on your device and plays a significant role in determining its overall capacity and speed. Having access to specific details about the NAND chip can help you assess its capabilities and make informed decisions when it comes to purchasing or upgrading your flash drive.
By delving into these technical aspects of your flash drive, you can unlock a wealth of knowledge that allows you to better understand its capabilities and potential limitations. Armed with this information, you'll be better equipped to troubleshoot issues, optimize performance, and make informed decisions when it comes to managing your digital storage needs.
- Testing the Performance and Health of Your Flash Drive
Testing the performance and health of your flash drive is crucial to ensure its optimal functionality and longevity. With the advancement in technology, there are now various tools available to assist you in this process. One such tool is ChipEasy, a benchmarking software specifically designed for flash drives.
Using ChipEasy, you can evaluate the performance of your flash drive by measuring its read and write speeds, as well as its random access times. This information is essential for determining whether your flash drive is meeting its advertised specifications or if it's underperforming.
In addition to performance evaluation, monitoring the health of your flash drive is equally important. ChipEasy provides features that allow you to assess the overall health status of your device. It can detect potential issues such as bad sectors or errors that may impact data integrity.
Regularly testing the performance and health of your flash drive using tools like ChipEasy enables you to identify any potential problems early on and take appropriate measures to prevent data loss or device failure. By staying proactive in maintaining the condition of your flash drive, you can ensure reliable storage and efficient data transfer for all your needs.
- Repairing Common Flash Drive Issues Using ChipEasy's Tools
In today's digital age, flash drives have become an essential tool for storing and transferring data. However, like any technology, they are not immune to issues that can hinder their functionality. Whether it's encountering write protection problems or dealing with unrecognized or corrupted drives, these issues can be frustrating and time-consuming to resolve.
Thankfully, with the help of ChipEasy's innovative tools, repairing common flash drive issues has never been easier. ChipEasy offers a comprehensive solution for fixing write protection problems that prevent users from modifying or deleting files on their flash drives. By utilizing their advanced software, users can quickly identify the root cause of the issue and apply the necessary fixes to regain full control over their data.
Furthermore, ChipEasy's tools are designed to tackle unrecognized or corrupted drives effectively. These issues often arise due to file system errors or physical damage to the device itself. With ChipEasy's expertise in flash drive repair, users can trust that their valuable data will be recovered safely and efficiently.
What sets ChipEasy apart is its user-friendly interface and intuitive features that make it accessible even for those with limited technical knowledge. Whether you're a tech-savvy individual or a novice user, you'll find comfort in knowing that repairing your flash drive is just a few clicks away.
In conclusion, when faced with write protection issues or unrecognized/corrupted drives on your flash drive, look no further than ChipEasy's reliable tools. With their expertise in flash drive repair and commitment to user-friendly solutions, you can trust them to get your device back up and running smoothly in no time. Don't let these common issues hinder your productivity - let ChipEasy be your go-to solution for all your flash drive repair needs.
Troubleshooting Common Challenges When Using ChipEasy USB Utility
Using ChipEasy USB Utility can greatly enhance your experience in managing and troubleshooting USB devices. However, like any software tool, there may be certain challenges that you may encounter along the way. In this troubleshooting guide, we will address some of the common issues that users face when using ChipEasy and provide you with effective solutions to overcome them.
Whether you are a beginner or an experienced user, this guide will help you navigate through potential roadblocks and ensure a smooth and efficient usage of ChipEasy. By understanding these challenges and their corresponding solutions, you will be able to maximize the benefits of this powerful utility tool.
ChipEasy Guide
- Plug your USB stick into your PC.
- ChipEasy will auto detects your USB.
- Now locate and select your device from the listed device list, then all the usb device information will shown below.
ChipEasy is a very useful tool to unravel the information of your USB device through a compact and exhaustive interface. Besides, it is very lightweight so you can carry it whenever you need and it will still work.
ChipEasy Advanced
ChipEasy clean and simplistic layout, with automatic generation of information about your device as soon as you connect it to your computer, it lets you copy the selected information to the Clipboard and paste it into other third-party utilities, and clear data displayed into the primary panel. You can also verify the VID\PID information from removable USB storage devices connected to the computer ( Flash , SSD ).
ChipEasy is mainly allows to know the controller chips of the USB flash disk device by polling the device driver. It is also possible to create boot disk from USB CDROM and repair usb flash drive.
ChipEasy Similar App
FirstChip FC1178/FC1179 MpTools is a utility for flashing flash drives on USB controllers FirstChip FC1178 3D , FC1178 BC , as well as FirstChip FC1179 , FC1179S , FC1179AB .
FirstChip Last Version:
- Optimize support for N38, B47R to improve card rate and stability
- Improve TS/SD 3D stability
- Improve the VCCQ 1.2V Flash read ID, occasionally with RB exception problems
- Optimize support for VCCQ 1.8V Flash
- Optimize the experience, such as opening the tool speed, occasionally mass production computer card death, crash, etc
- New processes such as B36R, B37R, B47R, 9TC1, FT8A1B, N38, etc. are added
- Improved BurnIn stability
- Improve the card opening, BIN-grade yield of mainstream models such as TS 3D
- After upgrading the performance of ATTO, HDBENCH needs to set the relevant parameters in Settings/Other Settings
- Optimize the experience of using other related features
- Improve the card yield and stability of MLC such as 8A1B/TDG8T2D/L05B
- Improve 8M2M stability
- Optimized 0 bytes on disk occasionally, VID/PID display problem, multi-CE display as 48PIN, high grid occasionally fails, etc.
- Optimized the parameters for mass production according to the low format high format, try to ensure that the results are consistent with the original low format
Conclusion
To conclude ChipEasy USB Utility works on Windows operating system(s) and can be easily downloaded using the below download link according to Freeware license. ChipEasy USB Utility download file is only 872 KB in size.
ChipEasy USB Utility was filed under the System category and was reviewed in softlookup.com and receive 5/5 Score.
ChipEasy USB Utility has been tested by our team against viruses, spyware, adware, trojan, backdoors and was found to be 100% clean. We will recheck ChipEasy USB Utility when updated to assure that it remains clean.
ChipEasy USB Utility user Review
Please review ChipEasy USB Utility application and submit your comments below. We will collect all comments in an effort to determine whether the ChipEasy USB Utility software is reliable, perform as expected and deliver the promised features and functionalities.
Popularity 10/10 - Downloads - 1634 - Score - 5/5

Softlookup.com 2023 - Privacy Policy
Category:
System
Publisher:
FlashDiskBoot
Last Updated:
03/12/2023
Requirements:
Windows 7 / Windows Vista / Windows XP
License:
Freeware
Operating system:
Windows
Hits:
3023
File size:
872 KB
Price:
Not specified
Name: *

E-Mail: *

Comment: *