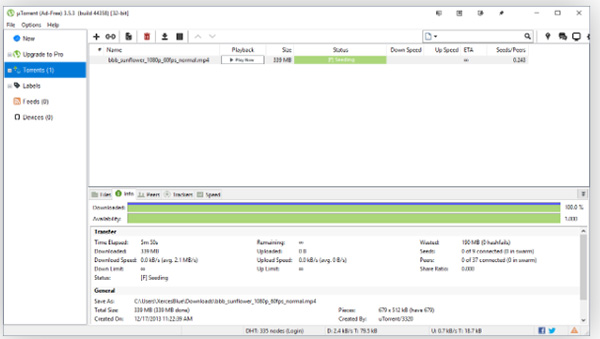 oTorrent is the top place to get personal entertainment directly to your PC or mobile phone. Watch any movie or TV Show as many times as you want. All you need to get started is a an internet connection.
You need
uTorrent client
, which is one of the most popular free BitTorrent clients out there for several reasons: it's fast, lightweight, easy to use and very efficient. It's also available for Android, Mac and it has a portable version.
Most of the features present in other BitTorrent clients are present, including bandwidth prioritization, scheduling, RSS auto-downloading, and Mainline DHT. Additionally, It supports the protocol encryption joint specification and peer exchange. Unlike many torrent clients, it does not hog valuable system resources--typically using less than 6MB of memory, allowing you to use the computer as if it weren't there at all.
Download
uTorrent
to get started Now!
Main Features include:
-RSS auto-downloading
-Scheduling
-Bandwidth prioritization
-Compatible with BitComet-Mainline DHT
-Teredo Tunneling / IPv6 support
-UPnP support for all versions of Windows
-Peer exchange
-Protocol Encryption
µTorrent is a BitTorrent client originally created by Ludvig Strigeus (ludde), and is currently maintained by a team of developers at BitTorrent, Inc. A client is a computer program that follows the rules of a protocol. For example, HTTP (HyperText Transfer Protocol) is the protocol used for transferring web pages and other content, and your HTTP client (or web browser) is the program you use to get those web pages. Some popular browsers include Microsoft Internet Explorer, Mozilla Firefox, Opera, and Apple Safari. To an extent, they all work in the same way because they follow the same set of rules. Just as there are multiple HTTP clients, there are multiple BitTorrent clients that observe and conform to guidelines set in the BitTorrent protocol definition, and µTorrent is one such BitTorrent client.
Why Choose our app?
- Stream Instantly: Watch or preview torrents as they download, without waiting for the completed file.
- Convert, download and play in many formats, µTorrent Pro includes an HD media player or convert to play on any mobile device.
- Premium New Features: µTorrent Pro is always adding new features. Enjoy them at no extra cost.
- Anti-Virus Protection: Keep your PC safe by automatically scanning downloads for viruses and malware.
- Early Access: Gain access to updates and cutting-edge features before anyone else.
- No Ads: As a Pro user and a supporter of µTorrent, you can enjoy an ad-free experience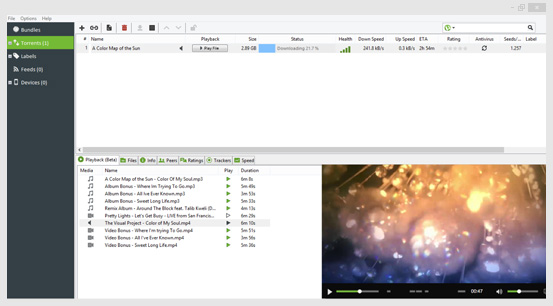 So what sets µTorrent apart from other BitTorrent clients?
- Micro-Sized Yet Feature Filled: Most of the features present in other BitTorrent clients are present in µTorrent, including bandwidth prioritization, scheduling, RSS auto-downloading and Mainline DHT (compatible with BitComet). Additionally, µTorrent supports the Protocol Encryption joint specification and peer exchange.
- Resource-Friendly: µTorrent was written with efficiency in mind. Unlike many other BitTorrent clients, it does not hog valuable system resources, allowing you to use the computer as if it weren't there at all. Additionally, the program itself is very portable, being contained within a single executable small in file size.
- Skinnable and Localized: Various icon, toolbar graphic and status icon replacements are available, and creating your own is very simple. µTorrent also has support for localization, and with a language file present, will automatically switch to your system language. If your language isn't available, you can easily add your own, or edit other existing translations to improve them!
- Actively Developed and Improved: The developers put in a lot of time working on features and making things more user-friendly. Releases only come out when they're ready, with no schedule pressures, so the few bugs that appear are quickly addressed and fixed.
What is the BitTorrent Protocol?
BitTorrent (often abbreviated to 'BT') is a protocol that allows you to download files quickly and efficiently. It is a peer to peer protocol, which means you download and upload to other people downloading the same file. BitTorrent is often used for distribution of large files or popular content as it is a cheap, fast, efficient way to distribute files to users like you. µTorrent is a BitTorrent client, so it speaks the BitTorrent protocol, much like a browser would speak HTTP. Just as there are multiple web browsers, there are multiple BitTorrent clients, and µTorrent is the most popular.
Downloading With BitTorrent
Similar to needing a URL, like https://www.softlookup.com, to go to a website and download content, a .torrent file is required to download content available through BitTorrent. Most of the time, you can download this file from a website, though you can also get it from a friend or some other form of transfer. Many websites offer .torrent files as one method of downloading files available through that website. Sites that contain .torrent files are generally repositories of only the .torrent files, and usually don't create or directly make available any of the content being shared. These sites are either index sites or trackers. While torrent index sites list .torrent files for download, torrent trackers merely coordinate the swarm. Many torrent trackers function as a torrent index as well, listing the torrents that it tracks (and sometimes, torrents from external trackers as well).
So where do you go about looking for these .torrent files? Searching with your favorite search engine, and attaching the word torrent to the query generally works wonders in finding you decent results, but µTorrent also includes a built-in search bar to some of the more popular .torrent file search engines.
Adding a Torrent Once you obtain the .torrent file you wish to download, you simply import it into the client. There are several ways of achieving this:
• Double-click the .torrent file (only if .torrent files are associated with BitTorrent) • Drag-and-drop the .torrent file into your client • Select "File" then "Add Torrent" (or press Ctrl+O) in the client and open the .torrent file • If you know the direct URL to the .torrent file, but don't have it on your hard drive, you can select "File" then "Add Torrent from URL" (or press Ctrl+U) in µTorrent and enter the URL of the .torrent file
After opening the .torrent file, tell the client where you'd like the torrent contents to be saved. If the client doesn't automatically start downloading, you can start the torrent job manually by selecting the torrent job in the list and pressing the "Start" button on the toolbar, or by right-clicking the torrent and selecting "Start".
What to do After the Torrent Job Finishes Downloading
After a torrent job finishes downloading, you may view the files that you have downloaded. While you can also remove the torrent job from the torrent jobs list if you so wish, you are highly encouraged to leave the torrent job seeding (uploading after you have obtained every piece). Although the length of time that you should leave the it seeding is not defined in particular, it is recommended that you share until the amount of data you upload reaches at least the same as the amount of data that you have download, also known as reaching a 1.0 ratio. This ratio is calculated by dividing the amount of data you have uploaded by the amount that you have downloaded. Granted, it is technically impossible for every person in any given swarm to reach a 1.0 ratio, but people who leave the swarm before even getting close to that ratio are abhorred in the BitTorrent community, and are labeled as leechers(which carries a strong negative connotation). Because leechers have a detrimental effect on swarms, some people resort to vigilante tactics and block connections to leechers. Additionally, private trackers may ban leechers.
What is seeding?
Seeding is where you leave your BitTorrent client open after you've finished your download to help distribute it (you distribute the file while downloading, but it's even more helpful if you continue to distribute the full file even after you have finished downloading). Chances are that most of the data you got was from seeds, so help give back to the community! It doesn't require much - the client will continue seeding until the torrent is removed (right click the torrent, then hit Remove). Proper practice is to seed until the ratio of upload:download is at least 1.00.
µTorrent is user-friendly but still offers the functionality comparable to larger BitTorrent clients. µTorrent operates on minimal system resources;
µTorrent for Android:
Download
Torrent Client for android here!
Other Alternatives
BitTorrent Absolute Downloader
BitTorrent Absolute Downloader allows you to connect, and download from torrent tracker sites at the fastest speed ever….
BitTorrent Absolute Downloader features multi-sourced downloading for maximum speed on broadband connections. Download accelerator included for super fast download speeds.
Ares Torrent Downloader
Search, download and share MP3, video files over P2P and BitTorrent networks.
Ares torrent downloader allows you to find media files anytime, anywhere, without any waiting. It connects to major file sharing network such as kazaa, limewire, bearshare, imesh and ares galaxy to get more search results and faster download. Ares torrent downloader comes with advanced p2p functions such as download through proxy, bittorent download, multihost download, multiple searches, etc.
Bittorrent
- Search for torrents and download in a few steps
- Immediately play torrent files and magnet links
- Online torrent downloading from your browser
- Fast, bulk torrent downloading from the desktop
- Advanced customizations for torrent experts
- Small setup file and light on resources
qBittorrent
The qBittorrent project aims to provide an open-source software alternative to µTorrent. Additionally, qBittorrent runs and provides the same features on all major platforms (FreeBSD, Linux, macOS, OS/2, Windows).
qBittorrent is based on the Qt toolkit and libtorrent-rasterbar library.
Vuze
Vuze (formerly Azureus) claims to be the most powerful BitTorrent client on Earth. We're not sure how it ranks on other planets, but it's certainly a serious contender for that title.
WebTorrent Desktop
WebTorrent Desktop is for streaming torrents. Whether it's video from the Internet Archive, music from Creative Commons, or audiobooks from Librivox, you can play it right away. You don't have to wait for it to finish downloading. WebTorrent Desktop is fast, free, non-commercial & open source.
ChilliTorrent
ChilliTorrent is a free bittorrent client to download, upload and open torrent files that people are sharing across the internet. It comes with many good features that a bittorrent client should have.
ChilliTorrent is an innovative application to download and upload torrent files that people are sharing across the internet online. Experience the fast download speed and convenient program interface with necessary features. We have excluded the unnecessary to optimize your internet and computer resources.
oTorrent | Watch Movies, Games and TV shows user Review
Please review oTorrent | Watch Movies, Games and TV shows application and submit your comments below. We will collect all comments in an effort to determine whether the oTorrent | Watch Movies, Games and TV shows software is reliable, perform as expected and deliver the promised features and functionalities.
Popularity 10/10 - Downloads - 1872 - Score - 5/5

Softlookup.com 2021 - Privacy Policy
Category:
General
Publisher:
uTorrent
Last Updated:
07/05/2021
Requirements:
Windows (All Versions)
License:
Freeware
Operating system:
Windows
Hits:
8613
File size:
3.0 MB
Price:
Not specified
Name: *

E-Mail: *

Comment: *