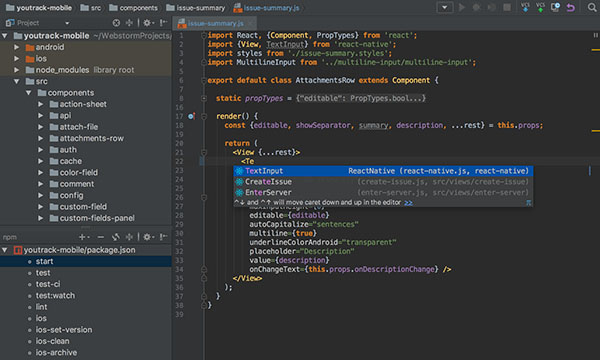 JetBrains WebStorm is a smart design environment for Integrated Development Environment (IDE) for JavaScript, CSS and HTML languages ??based on the JetBrains IntelliJ IDEA platform, and is a special version of JetBrains PhpStorm.
WebStorm Overview
WebStorm 2019.1 brings with it new smart intentions for JavaScript and TypeScript, improved support for Angular, updated documentation for CSS and HTML, a more powerful debug console. With this programming environment and features such as code autocomplete, VCS integration, code quality analysis, and the ability to design a variety of high-speed, high-quality websites and software will be provided.
Powerful Editor
Use the full power of the modern JavaScript ecosystem – WebStorm's got you covered! Enjoy the intelligent code completion, on-the-fly error detection, powerful navigation and refactoring for JavaScript, TypeScript, stylesheet languages, and all the most popular frameworks.
Web: Angular, React, Vue.js
Mobile: Ionic, Cordova, React Native
Server: Node.js, Meteor
Desktop: Electron
Seamless tool integration
Take advantage of the linters, build tools, test runners, REST client, and other tools, all deeply integrated with the IDE. But any time you need Terminal, it's also available as an IDE tool window.

Unit testing
Run and debug tests with Karma, Mocha, Protractor, and Jest in WebStorm. Immediately see test statuses right in the editor, or in a handy treeview from which you can quickly jump to the test.

Debugger
Debug your client-side and Node.js apps with ease in the IDE – put breakpoints right in the source code, explore the call stack and variables, set watches, and use the interactive console.
WebStorm Main Features
Intelligent coding assistance
WebStorm brings you smart coding assistance for JavaScript and compiled-to-JavaScript languages, Node.js, HTML and CSS. Enjoy code completion, powerful navigation features, on-the-fly error detection, and refactorings for all of these languages.
Modern frameworks
WebStorm provides advanced coding assistance for Angular, React, Vue.js and Meteor. Enjoy support for React Native, PhoneGap, Cordova and Ionic for mobile development and develop for server-side with Node.js. All in one IDE!
Smart editor
The IDE analyzes your project to provide the best code completion results for all supported languages. Hundreds of built-in inspections report any possible issues right as you type and suggest quick-fix options.
Navigation & Search
WebStorm helps you get around your code more efficiently and save time when working with large projects. Jump to a method, function or variable definition in just one click, or search for the usages.
Debugging, tracing and testing
WebStorm provides powerful built-in tools for debugging, testing and tracing your client-side and Node.js applications. With minimum configuration required and thoughtful integration into the IDE, these tasks are much easier with WebStorm.
Seamless tool integration
WebStorm integrates with popular command line tools for web development, providing you with a productive, streamlined development experience without using the command line.
Build tools
Enjoy a simple unified UI for running Grunt, Gulp or npm tasks right from the IDE. All tasks are listed in a special tool window, so simply double-click on the task name to start it.
Code quality tools
In addition to hundreds of WebStorm's own inspections, it can run ESLint, JSCS, TSLint, Stylelint, JSHint or JSLint against your code and highlight any issues on the fly, right in the editor.
Project templates
Start new projects from the Welcome screen using popular project templates like Express or Web starter kit, and access even more project generator thanks to integration with Yeoman.
IDE features
WebStorm is built on top of the open-source IntelliJ Platform, which we at JetBrains have been developing and perfecting for over 15 years. Enjoy the fine-tuned, yet highly customizable experience it provides to fit your development workflow.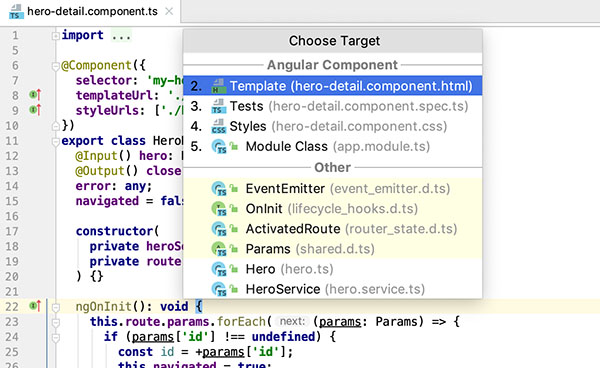 What's new in WebStorm
- Using JavaScript destructuring
With destructuring, you can unpack values from arrays and objects into variables using a very concise syntax. WebStorm's new refactorings and intentions (Alt-Enter) can help you easily introduce destructuring to your JavaScript or TypeScript code.
- Convert function with Promise to async/await
You can automatically change a function that returns a Promise with .then() and .catch() calls to an async function that uses the async/await syntax. Simply press Alt-Enter on the name of the function and select Convert to async function. This is possible not only in TypeScript files, but also in JavaScript and Flow.
- New inspections for Angular apps
For Angular applications, WebStorm adds 17 new inspections that will help you detect Angular-specific errors in your app as you type, and will suggest quick-fixes. These inspections work both in the TypeScript and template files and check the use of bindings, directives, components, and many other things.
- Easier navigation in Angular projects
In Angular apps, you can now use the Related Symbol… popup (Ctrl-Cmd-Up / Ctrl+Alt+Home) to quickly jump between the different component files such as TypeScript, template, style, and test files. In the TypeScript file, the popup will also list all the symbols that were imported into this file.
- Improved support for TypeScript in Vue apps
WebStorm now uses the TypeScript language service together with its own TypeScript support for any TypeScript code in .vue files. This means that you'll now get more accurate type checking and type info, you will be able to use the quick-fixes provided by the service, and see all the TypeScript errors in the current file in the TypeScript tool window.
- Extract Method for React hooks
The Extract Method refactoring now works with local functions and uses destructuring for the return values, making it perfect for extracting custom React hooks.
- Improved completion for props
WebStorm now provides better code completion for React props merged using with the spread operator.
Browser compatibility check for CSS
To check that all the CSS properties you use are supported in the target browser version, you can enable a new Browser compatibility inspection in preferences.
Camel case support for CSS Modules
If you use CSS Modules in your project, code completion for classes in the JavaScript file will now suggest camel-cased versions of class names with dashes.
Extract CSS variable
With the new Extract CSS variable refactoring, you can replace all the usages of a value in a current .css file with a variable by using the var(--var-name) syntax.
Highlighting for failed line in test
When you run tests with Jest, Karma, Mocha, or Protractor and some tests fail, you can now see right in the editor where the problem happened. The IDE will use the information from the stack trace and highlight the failed code. On hover, you'll see the error message from the test runner and you can immediately start debugging the test.
Testing with Cucumber and TypeScript
Using Cucumber and TypeScript? You can now jump from the steps in the .feature file to their definitions in the .ts file, and generate missing definitions using a quick-fix (Alt-Enter).
New debugger console
Meet the new, improved interactive debugger console in the JavaScript and Node.js debug tool windows! It now displays objects using a tree view, and it supports styling of log messages with CSS and grouping them using console.group() and console.groupEnd(). You can also filter out any type of log messages.
Completion for npm scripts
When adding new scripts to the package.json file, WebStorm now provides suggestions for available commands provided by the installed packages. After typing node, the IDE will suggest folder and file names. And after typing npm run, you'll see a list of tasks defined in the current file.
Improved support for linters
WebStorm can now run multiple processes for ESLint and TSLint in one project to make sure that they work correctly in monorepo-projects and in projects with several linter configurations.
Support for Docker Compose
If you use Docker for testing your Node.js application, you can now use the configuration described in the Docker Compose file to easily run and debug the app from the IDE.
Version range tooltip for dependencies
In package.json, press Cmd/Ctrl and hover over the version on a dependency to see what range of versions can be installed when running npm install or yarn install.
Recent locations popup
The Recent Locations popup (Cmd-Shift-E / Ctrl+Shift+E) is a new way to navigate around the project. It shows a list of all the files and lines of code in them that you have recently opened in the editor. You can start typing to filter the results and jump to the code you need.
Soft-wraps for selected file types
You can now enable soft-wraps in the editor for specific file types. To do that, open Preferences/Settings | Editor | General and specify the file types in the Soft-wrap files field.
Frequently Asked Questions
Why use the JetBrains Account?
JetBrains Account offers the ability to register your JetBrains products and use invitations to manage and distribute your purchased licenses.
Easy distribution and management
Simplified accountability
Zero-hassle product upgrades
One "key pair" for all products
Your licenses are all in one place
Do I need an Internet connection to activate JetBrains WebStorm?
Yes. When you enter your JetBrains Account in desktop software, the software must connect to JetBrains servers and verify if there is a valid software license associated with your account.
Can I use the same JetBrains Account for both personal and company licenses?
Yes. Your personal licenses and the commercial licenses which assigned to you with an invitation can be connected to the same JetBrains Account. You can see these licenses when you click your username in the Licenses section. You can use your JetBrains Account to activate JetBrains software corresponding to these licenses.
Signing up and Logging in
To sign up to a JetBrains Account, you need to provide your name and email address on the main page of the JetBrains Account website and click Sign Up. We will send you a verification email with further instructions. After verifying your email address and creating a password, you can use these credentials to log into the JetBrains Account website and other online services.
For Business and Organizations
Entities, including companies and organizations (both for-profit and non-profit), requiring the software for general commercial use qualify for the Commercial Toolbox Subscription plans. A legal entity may use the software under Commercial Toolbox Subscription on any computer, operating system, and by any developer within a legal entity, provided that the total number of concurrent users never exceeds the number of subscriptions purchased by that legal entity. If you are not sure that Commercial Toolbox Subscription is right for you, check the subscription comparison matrix.
For Individual Developers
If you, as an individual, are purchasing Toolbox Subscription using your own funds, then the Personal Toolbox Subscription plans are right for you. Personal Toolbox Subscriptions cannot be purchased by companies in any way or form, nor can a company reimburse an individual for a subscription he/she purchased. However, an individual may use Personal Toolbox Subscription that he/she privately purchased on any hardware, including company hardware.
For Education and Open Source
Students, teachers, academic institutions and non-commercial open source software projects qualify for the 1-year complimentary subscriptions allowing them to use the fully-functional versions of software for non-commercial purposes. For the complimentary subscription terms, check the subscription comparison matrix.
WebStorm for MAC and Linux
-
Download WebStorm for MAC version 2019.1.3
-
Download WebStorm for Linux version 2019.1.3
System requirements
- 2 GB RAM minimum, 4 GB RAM recommended
- 1024x768 minimum screen resolution
- GNOME or KDE desktop (Linux)
- macOS 10.8.3 or higher (MAC)
- Microsoft Windows 10/8/7/Vista/2003/XP (incl 64-bit)
Installation Instructions
For Linux:
- Unpack the WebStorm-2019.1.3.tar.gz file to an empty directory using the
following command: tar -xzf WebStorm-2019.1.3.tar.gz
For MAC:
- Download the WebStorm-2019.1.3.dmg macOS Disk Image file
- Mount it as another disk in your system
- Copy WebStorm to your Applications folder
For Windows:
- Run the WebStorm-2019.1.3.exe file that starts the Installation Wizard
- Follow all steps suggested by the wizard. Please pay special attention to the corresponding installation options
Conclusion
To conclude JetBrains WebStorm works on Windows operating system and can be easily downloaded using the below download link according to Shareware license. JetBrains WebStorm download file is only 203.7 MB in size.
JetBrains WebStorm was filed under the General category and was reviewed in softlookup.com and receive 5/5 Score.
JetBrains WebStorm has been tested by our team against viruses, spyware, adware, trojan, backdoors and was found to be 100% clean. We will recheck JetBrains WebStorm when updated to assure that it remains clean.
JetBrains WebStorm user Review
Please review JetBrains WebStorm application and submit your comments below. We will collect all comments in an effort to determine whether the JetBrains WebStorm software is reliable, perform as expected and deliver the promised features and functionalities.
Popularity 10/10 - Downloads - 226 - Score - 5/5

Category:
General
Publisher:
JetBrains s.r.o.
Last Updated:
02/16/2019
Requirements:
Microsoft Windows 10, 8.1, 8, 7 Vista 2003 XP 64-bit
License:
Shareware
Operating system:
Windows
Hits:
882
File size:
203.7 MB
Price:
Not specified
Name: *

E-Mail: *

Comment: *