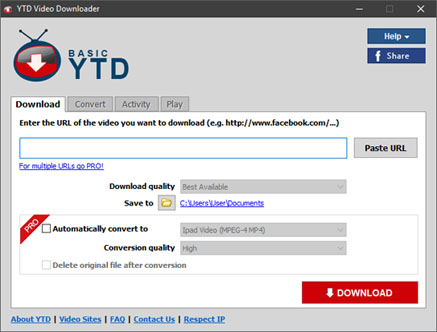 YTD - SaveMP3 is a comprehensive and Free MP3 Downloads app that can easily convert videos to Music mp3 (audio) or mp4 (video) files and download them for free.
SaveMP3 Free MP3 Downloads
This app is great for downloading and converting videos online, but also from most other video-sharing websites such as Facebook or Dailymotion.
Various video formats are supported by this app and you will not be in trouble in this area. Working with this software is very simple, just enter the URL of the video you want into the corresponding field, and then click the Download button. Other features include converting videos to various formats and devices like iPod, iPhone, PSP, Cell Phone, Windows Media, WMA, MP4 XVid and MP3.
How to Convert videos to MP3 for free?
Enter the Video URL, in the Text box below and then click on "Convert Videos to MP3" button.
Copy your video link and paste it in input field
Choose MP3 as the output format
Click on "Convert" button to start the conversion
The tool will convert your videos to MP3 files
The Video Resolutions available are:
1080p (.mp4) full-HD
720p (.mp4) m-HD
360p (.mp4)
240p (.mp4)
144p (.mp4)
Audio Formats:
.mp3 .aac .ogg .m4a .wma .flac .wav
Video Formats
.mp4 .m4v .mov .flv .avi .mpg .wmv
By using our online tool you are accepting our terms of use.
Windows Main Features
- Download free videos from 50+ sites
- Convert Most Video Formats: mp3, mp4, wmv, flv, mov, 3gp, avi
- Watch free videos later on other devices: iPad, iPhone, iPod, Samsung Galaxy, HTC, Kindle Fire, Blackberry and many others
- Integrated video player to watch your videos you are converting right away
- Free video downloader
- Super easy to use and fast
- Option to pause and resume downloads
- Access to several batch processing tools which you can use for editing
- Free version does not support batch downloads
Windows System Requirements for Converter
Windows XP/Vista/7/8/10
Internet Explorer 6.0 or higher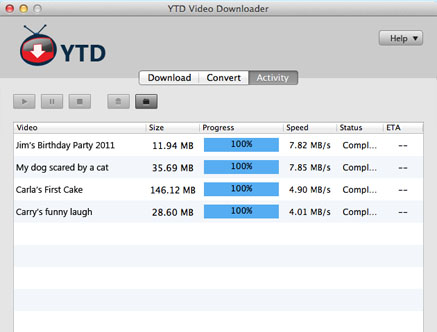 MAC
Click here to
Download MAC
MAC Main Features
Download free videos from 50+ sites
Convert Most Video Formats: mp3, mp4, wmv, flv, mov, 3gp, avi
Watch free videos later on other devices: iPad, iPhone, iPod, Samsung Galaxy, HTC, Kindle Fire, Blackberry and many others
Super easy to use and fast
System Requirements for Mac
Mac Osx 10.6
Mac OSX 10.7
Mac OSX 10.8
Mac OSX 10.9
Mac OSX 10.10
Mac OSX 10.11
Mac OSX 10.12
Supported Formats
MP3, MP4, WMV, FLV, MOV, 3GP, AVI, 4K video.
Supported output device
iPad, iPhone, iPod, Samsung Galaxy, HTC, Kindle Fire, Blackberry and many others
Video Coding Efficiency
Enjoy both faster converting speed and higher video quality at half the bit rate and significantly better visual quality.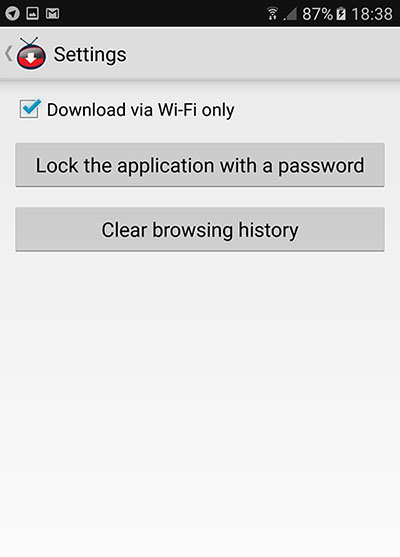 Video Downloader for Android
Newest video and audio downloader application for your Android - Video Downloader for Android
Free downloads queued from a huge list of video streaming sites
Create your own collection of videos and songs and play them whenever you want
Sort them any way you want, protect them using a password
See the progress of your downloads and their sizes
Protect your privacy by locking the the app with a password
Localization: English, German, Italian, French, Spanish, Romanian, Portuguese
Download Video Downloader APK for Android
SaveMP3 Video Downloader for iOS
Browse videos from famous streaming sites
Add to Favorites any video so you can watch it later
Organize your videos in playlists and play them anytime
Protect your privacy by locking the the app with a password
Available languages: English, French, German, Spanish, Portuguese, Italian and Romanian
Import any video from your camera into the app.
Play your existing playlists, just hit the play button and enjoy your favorites videos.
Download Video Downloader for iOS
Pro subscription
Unfortunately, the free version does not support batch downloads, so if you do not upgrade to the full version you will be limited to one video at a time.
The pro version provides:
Free Download for videos and playlists from 60+ popular sites
Convert videos to iPhone, iPad, MP4, WMV, AVI, MP3 and more
Advanced panel where you can monitor activity
Faster (up to 4x) download speed Automatic resume/retry when internet connection fails
Ad-free experience and no installer offers
Download multiple videos at the same time
Free email support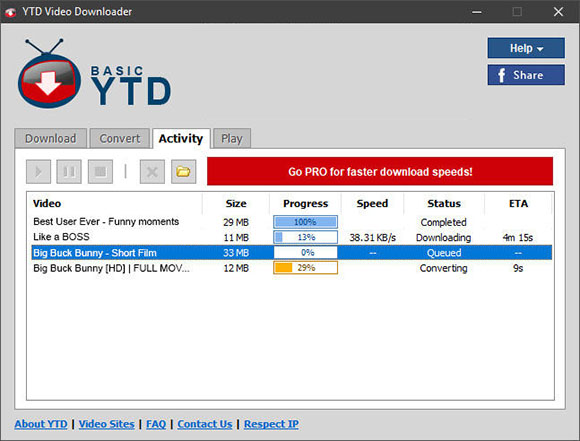 Frequently Asked Questions
Installation
Getting "Abort, Retry, Ignore" error when installing the latest version of Video Downloader.
The existing file is being used by Windows and cannot be modified. In case you are installing the new version ofthe app in the same location as the previous one, make sure to close any instances of Video Downloader that are running before installing a new version. We recommend you to restart your computer and try installing the app again. In case the issue persists, uninstall the older version of the app by using "Add or Remove Programs" in the Windows Control Panel and the install the latest version.
Getting a "file not found" error when running Video Downloader.
In order to operate the downloader Visual Basic Runtime is required. In case you don't have it installed you will receive these error: "A required file, MSVBVM60.DLL was not found" or "Class not registered, MSSTDFM.DLL needs to be installed on your machine." The issue can be solved by downloading and installing the Visual Basic Runtime from Microsoft. Make sure to restart your computer after the install.
Uninstalling
In order to uninstall the app simply go to "Add or Remove Programs" in Windows Control Panel. Or select "Uninstall" from the "Video Downloader" folder in the "Programs" section of the Windows "Start" menu.
Downloading videos
Getting a Failed error when downloading a video.
There can be multiple causes for this. First, make sure you are using the latest version of Video Downloader by opening the program and going to 'Help' > 'Check for updates'.
The app uses cookies on Internet Explorer to download videos. In case you encounter issues downloading videos from specific sites, try playing them in IE and try downloading the video while Internet Explorer is running. If you cannot view the video please make sure IE is up to date.
If you receive a "Pause, waiting for internet connection" or "Failed 6" error please perform the following actions: Regardless of your default web browser, reset your Internet Explorer settings by going to "Tools" (Alt + X keyboard shortcut) > "Internet Options" > "Advanced" tab. Select "Reset", making sure to choose the "Delete personal setting" check box.
The connection can be blocked by your antivirus or firewall. Make sure to add Video Downloader to your firewall's list of allowed programs. If the issue persists, try switching your Antivirus and/or Firewall off and try using the app again.
If you are using AVG Internet Security please make sure to disable the AVG Accelerator option by going to "Options" -> "Advanced settings" -> "Web Browsing protection" -> "Online Shield".
In case you use Zone Alarm, go to COMPUTER Protected section, then to Application Control. Selectour Video Downloader, click on the ? (question mark), select ALLOW.If the issue persists please uninstall Zone Alarm from your computer and try again.
The connection can be blocked by McAfee. When prompted about Video Downloader's access, please select "Allow". If the issue persists please uninstall McAfee and try again.
As a final solution you can uninstall our Video Downloader. Run a registry cleaner program and reinstall the app.
There is no sound for the downloaded video
If you encounter sound issues with the downloaded videos, please update your media player codecs. Otherwise we recommend you to use VLC player which can be downloaded for free from here: http://www.videolan.org/
How can I record videos?
Our Video Downloader uses the URL from the web browser to download a video. Simply copy the URL from the address bar of your web browser and paste it and select "Download" in order to download the video to your computer.
Some videos downloaded with the app have an unknown file type.
There are several video formats that can be found on the video sites. Most common formats are "flv" and "mp4". The app will download videos in their original format. In case a downloaded video doesn't contain its extension within the file name (for example, is missing the ".mp4"), you will need to identify the correct type of the video file and rename it accordingly. For that open the video file in a text editor program such as Notepad and see if the first line of the file has "flv" or "mp4" in it.
If your computer doesn't recognize a certain format and is unable to play it we recommend you to use the following program: VLC Media Player is a free, open source program that can play almost any video type without requiring additional software. It also tells you what type of video a file is (load the video and select "Media Info" under the Tools menu).
Asking for a username / password when downloading a video from Facebook.
A log in is required by Facebook to access any content. The app will prompt you for your Facebook username and password when each time when you want to download a video from Facebook. Simply enter the same username and password you use to log in to Facebook.
Using a proxy server for downloading.
The app uses the default proxy server defined in Internet Explorer Options. Make sure to set your proxy settings there.
The proxy server is requesting a password.
The app does not allow the use of a password for HTTP proxy.
Converting and playing videos
Receiving an error message when attempting to convert.
In case you receive the following message: "The conversion of your video file has failed, etc." please check the file name under "Select video file" and make sure it is properly set. This file name needs to be a full path to the file, not just the name of the file.
For example, if you downloaded a video and saved it as "myvideo.mp4" in your "C:Videos" folder, the "Select video file" box should have "C:Videos myvideo.mp4" in it not just "myvideo.mp4" (no directory name) or "C:Videos myvideo" (no file extension, e.g. ".mp4"). To get the entire file path in the "Select video file" box, click the "Browse" button and locate the video on your drive, select it and try the conversion again, making sure the entire file and path is present and correct.
In case you are still receiving the error message, you may be missing a codec or have conflicting codecs on your computer. This is likely if you are using older version of Windows or you have many video processing applications on your computer. You will need to identify what codec is missing or corrupt and fix it. There are several codec packs available at sites like download.com, eg: Windows Essentials Media Codec Pack however we do not recommend, we do not endorse and we are not responsible for a particular codec pack.
Removing the video and keeping only the audio.
Simply go to the Convert tab, select the video file and choose MPEG Audio Layer 3 (MP3) from the drop-down menu. In the "Choose Quality" dialog you can choose the quality of the mp3 output file. Keep in mind that a higher quality implies a larger file size. You can modify the volume or select only a certain part of the video from the advanced conversion options. Click "Convert Video" and follow the progress in the activity tab.
Converting a videos for iPod Touch.
Since the iPod Touch is more similar to the iPhone, than to the iPod, in order to convert videos for iPod Touch, please choose "iPhone Video" as the file type in the Convert tab.
Not able to play a video file converted using our Video Downloader.
It is possible that your computer does not recognize the format of the output file. For best playback results we recommend you to install VLC Media Player In case you are using Windows Media Player, you need to install or upgrade your audio and video codecs with a product such as the Windows Essentials Media Codec Pack.
Converting a file to video DVD or audio CD.
The app downloads videos from various sites and converts them to several formats. Creating a video DVD or audio CD requires converting audio and video to the correct types and formats, as well as the ability to write files with correct names and locations. There are several commercial and free products available that will help you create a video DVD or audio CD with videos downloaded. Please also review this FAQ.
Converting to PSP format is failing.
Converting a file in PSP requires both audio and video data. MP3 files will not be successfully converted to PSP. Also, video files without sound or with the volume set to 0 will not be converted to PSP. Make sure your file has both audio and video data before converting to PSP.
Downloading videos with subtitles
The app will download only the original video. The subtitles are separately introduced in it and will not be downloaded.
Miscellaneous
Identifying the version.
From the main screen, go to "Help" > "About our Video Downloader" the version you are currently using.
Not able to locate the video files downloaded/converted using The app.
The location of your downloaded / converted files is displayed in the Download/Convert tab, next to the "Save to" label. Click on the directory to see the files. Click on the folder icon to change the destination folder.
Changing the name of the videos downloaded/converted
Go to the Activity tab and right click the video, then select Rename.
Available languages.
The app is available in English, Albanian, Arabic, Belarusian, Bulgarian, Chinese, Chinese Simplified, Croatian, Czech, Dutch, Estonian, Finnish, French, German, Greek, Hungarian, Italian, Kurdish, Norwegian, Polish, Portuguese, Romanian, Russian, Serbian, Spanish, Swedish, Turkish.
Mac and mobile devices Version
You can
download Video Downloader for Mac
from here. You can download
Video Downloader for Android
from here.
Video Downloader for iOS
is available here
License
Can I transfer my license in case my computer crashes or it is replaced?
Yes. In order to transfer your Pro license simply go to Help > Transfer Your License. If you need to reset your Pro license please go here.
Why do I receive a Communication Error message when trying to register my license key?
The registration process is blocked by something. We recommend you to disable your firewall and/or bypass your modem/router in order to use a direct connection to the internet.
Converting to MP3 / MP4
MPEG is a very popular standard for video compression. It provides high compression levels without significant loss of video quality. The most popular formats based on this standard are MPG and MP4. MPG videos are compressed with MPEG-1 or MPEG-2 video codecs. MP4 is based on the more recent MPEG-4 standard, which is one of the newest video formats in wide use for storing video on computers and mobile devices. To be sure that your video will play on your smartphone or portable media player, it is best to convert it to a widely supported format, such as MP4. With
our Video converter
, you can convert both MPEG to MP4 and MP4 to MPEG. You can even edit your MPG videos before converting
MPG and MP4 Comparison Table
| | | |
| --- | --- | --- |
| Comparison parameter | MPG | MP4 |
| File extension | .mpg, .mpeg, others | .mp4 |
| Video coding formats | MPEG-1, MPEG-2 | MPEG-4, H.264, H.265, others |
| Audio coding formats | MP3 | MP3, AAC, AC-3, others |
| Streaming | Yes | Yes |
| Chapters | No | Yes |
Alternatives of our video downloader
Although our video downloader is a powerfull app and you can get many features from it, but sometimes you may want to test other apps if they are better in any way. Below is the list of apps that do similar task and you can test them and decide for yourself which app to use.
Tubemate
, Tubemate sounds like vidmate and does some similar works but vidmate is more versatile than tubemate. Tubmate is mainly designed to download videos from tubemate but recently they have added other sites like Facebook from where you can download videos.
Videoder
, Videoder is actually an alternative to tubemate. It does exactly same and somehow more task than tubemate.
UC Browser
, Latest version of UC Browser lets you download videos from any sites on the internet making it one of the best alternatives for VidMate. UC Browser For Android is the most powerful and most advanced browser for android.
SnapTube
, SnapTube is another app to download videos from various sites and is exactly same as Videoder and Tubemate with most of the feature from vidmattapp missing. SnapTube doesnít have any new feature or any unique function. Itís the matter of personal preference. Some people will prefer SnapTube others will prefer Videoder. You can try both and keep one of them. Itís really hard to tell which one is better.
Keepvid For Android
, KeepVid, which was originally available for windows only, has now android version too.
Ultimate Video Downloader
: Ultimate Video Downloader app search, watch and save videos directly from internet to your android device. Ultimate HD Video Downloader is a free video downloader for android devices. This free video downloader app allows to download all video formats such as FLV, MP4, AVI, MOV, MPEG, WMV, 3GP, MKV and so on.
Ultimate Video Downloader (free and safe) contains a built-in browser that allows you to navigate different videos on the web freely and easily. Use Ultimate Downloader and enjoy your favorite sports, movies, documentary, health and funny videos on your phone or tablet without Internet connection. A free video downloader, Ultimate HD Video Downloader is a Fastest Video downloader with downloading speed of at least 3x times faster than any other download manager apps.
HD Video Downloader & Browser
: Smart Video Downloader , Multi Tabs Browser, Simple Browse video site in simple UI and easy to use .
Downloads Video Formats : Support all download videos formats like FLV, MP4, AVI, MOV, MPEG,
VidMate
VidMate
is a Free, Fast and Simple HD Video Downloader application for Android. Download the hottest movies, music, HD videos and Live TV on your Android device completely free of charge!.
Vid Mate app was released on 2016-06-24, it supports now over 1000+ sites to download movies and videos. With advanced download technology, you can fast download movies/music/videos from vimeo, dailymotion, Instagram, Facebook and hundreds of other sites! All you want of entertainment is here! ?????? allows you to convert music video into audio files, download your favorite movies in HD format non-stop and all of these for free.
VidMate APP is your ultimate choice as the top video downloader which also provides the latest series, TV shows and movies in HD format, and free live television online watching.
Fast Hd Videos Downloader
: Easy to use Fast Videos Downloader App. Download Videos in various qualites . Videos Saver. Advance and Fast Video downloader app to watch and download videos from internet. Watch Videos and movies offline. Play and save videos to local with zoom and video player.
Get all type of videos from net, save videos and download movies with this app. Also this app support large size file with all video download options.
Private Downloader
: Private Downloader is a private browsing app with a video downloader that lets you easily save videos and photos from your favorite media sites to your Android. Save all of your downloads in a secure folder, and play back your favorite videos offline with the in-app player. Browse the Internet securely with the full-featured multi-tab private browser. Check out our secure browser and downloader app today for free and discover why itís a favorite among Android users.
All HD Video Downloader
: All HD Video Downloader allows you to download a streaming video from various websites for free. Itís the easiest and quickest way to download your favorite videos! This Video Downloader utility detects, downloads and save shared videos directly from Internet to your android device.
Vid2Mp3 - Video To MP3
: Vid2MP3 is a free Android application that lets you convert video files to MP3 format directly on your Mobile and without the use of your PC. Whether youíre using an iPod, iPhone, smartphone or tablet, you can listen to your favorite songs while on the go. What makes video2mp3 converter one of the most popular conversion tools out there is that itís very convenient to use.
Thereís an available online converter as well as a desktop converter software that you can download for free. The online tool has a simple interface. Just paste the videoís URL, click "Convert" and wait a while to get converted audio file in the download directory of your browser. Video2MP3 works quite effectively when converting videos to MP3 without loosing the Audio quality. Using video2mp3 converter you can easily extract audio from any video you have. You can extract the audio and save it to any folder of your choice and listen later.
Video Downloader - What's new?
New release 5.9.7 is live now. User interface changes. Fixed small specific issues.
New release 5.9.6 is live now. UI changes and small bug fixes.
New release 5.9.3 is live now. Resolved user-reported issues related to product install.
New release 5.9.2 is live now. Small tweaks and improvements.
New release 5.8.7 is live now. Multiple improvements for recording and converting are included.
Version 5.8.5 is now live! We have added support for popular streaming sites.
Version 5.8.4 is now live! Small bug fixes were added.
Version 5.8.3 is now live! Small improvements were added.
Version 5.8.2 is now live! We have added small bug fixes.
Version 5.8.1 is now live! Fixed different compatibility issues.
Version 5.7.4 is now live! We have added small improvements.
Version 5.7.3 is now live! We have resolved the issue with restricted videos.
Conclusion
To conclude SaveMP3 | Video to MP3 Converter works on Windows operating system(s) and can be easily downloaded using the below download link according to Freeware license. SaveMP3 | Video to MP3 Converter download file is only 10 MB in size.
SaveMP3 | Video to MP3 Converter was filed under the General category and was reviewed in softlookup.com and receive 5/5 Score.
SaveMP3 | Video to MP3 Converter has been tested by our team against viruses, spyware, adware, trojan, backdoors and was found to be 100% clean. We will recheck SaveMP3 | Video to MP3 Converter when updated to assure that it remains clean.
SaveMP3 | Video to MP3 Converter user Review
Please review SaveMP3 | Video to MP3 Converter application and submit your comments below. We will collect all comments in an effort to determine whether the SaveMP3 | Video to MP3 Converter software is reliable, perform as expected and deliver the promised features and functionalities.
Popularity 10/10 - Downloads - 1833 - Score - 5/5

Softlookup.com 2023 - Privacy Policy
Category:
General
Publisher:
ytddownloader.com
Last Updated:
02/17/2020
Requirements:
Windows XP/Vista/7/8/10
License:
Freeware
Operating system:
Windows
Hits:
14017
File size:
10 MB
Price:
Not specified
Name: *

E-Mail: *

Comment: *