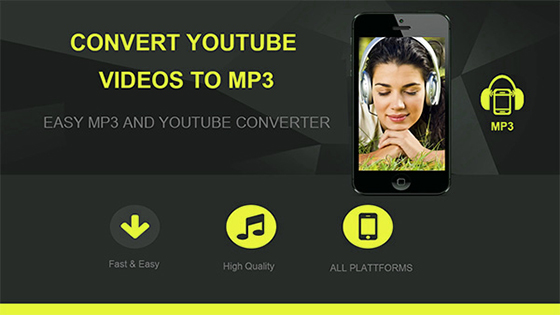 Video2MP3 Converter
Video2MP3 Converter is the fastest Video to MP3 Converter with best quality and multiple formats. Convert and download MP3 files online and for free and without signup!
Video2MP3 Converter Overview
Use Video2mp3 to convert online videos to MP3 format. All you need is a video URL, and our tool will extract the audio from the video in MP3 format in best quality for you to download. Online videos from Dailymotion, and other popular sites can be easily converted using our tool.
Video2MP3 Youtube Converter
To Start with Video2MP3 Converter you need to use both the online or offline version , and here how you can do it. Enter the Video URL, in the Text box just like the below and then click on "Convert to MP3" button.
Copy your video link and paste it in input field
Choose MP3 as the output format
Click on "Convert" button to start the conversion
The tool will convert your online videos to MP3 files
The Video Resolutions available are:
1080p (.mp4) full-HD
720p (.mp4) m-HD
360p (.mp4)
240p (.mp4)
144p (.mp4)
Video2MP3 Audio Formats:
.mp3 .aac .ogg .m4a .wma .flac .wav
Video Formats
.mp4 .m4v .mov .flv .avi .mpg .wmv
By using our online tool you are accepting our terms of use.
Video2MP3 Converter offline version can convert video files to MP3 and other various formats including AVI MPEG PSP WMV ASF SWF 3GP mp4a VOB H263 H264 OGG MP2 MP4V AAC MOV raw YUV RM etc. You can clip and trip your audio files before conversions. You can use both Online and Offline version of the amazing tool
Video2MP3 Offline Version
- Fast Audio Conversion
- Online and offline versions
- Support MP4 conversion
- Easy to use
- Support Multiple audio and video Formats
- Compress audio without quality loss.
- Alter MP3 metadata info.
Advanced Features:
- Convert all the popular video formats
- Wide range of Input/output formats.
- Support MP3, WMA, ACC, OGG, FLAC, AC3, M4R, AIFF, MKA, APE, AU.
- Lossless Audio Conversion
- Trim Your Audio to your selection before conversion
Video2MP3 Converter Usage
1- Download and install the offline on you PC
2- Open the app and from the menu select 'Convert'.
3- Click on 'Add Files' then select the video files you want to convert.
6- Select MP3 as the target format then choose the output quality
7- Click on the 'Convert' to start the conversion
Free Video2MP3 Converter
- Choose the latest version from the below links.
- Double-click the downloaded file to start Installation.
- Select your preferred language and click OK
- Click Install to start the the installation and follow the instructions.
- Audio Format Conversions
To convert audio to other formats:
- On the Convert tab to set the preferences and set the conversion parameters.
- Set the out format (audio) and quality (320Kpbs, 256Kpbs, 128Kpbs for audio).
- Set output folder Location
- Save the settings (Optional)
- Click on 'Convert' to start the conversion
Video2MP3 Converter Guide
Follow the below steps to convert your video using Video2MP3 Converter App.
Add the media files
: Find the media files you want to convert via the File Explorer window, and drag the files into the Converting tab.
Choose the output audio format
- Click the drop-down icon Inverted triangle icon to enter the drop down list of the output format.
- Select the output format for the files, for example MP3.
Choose the audio output format
- If you want to edit the video file before the conversion, you can click one of the three buttons listed as below to edit your audio files.
- Trim your Audio.
Edit the video files
- Click the Convert All button to start processing the files. Or you can click the Convert button at the right of the file to convert the related files one by one. You can turn on the switch High Speed Conversion to speed up the conversion.
Find the converted MP3 files
- After the conversion completes, find the converted files in the Converted tab.
- Click the folder icon folder icon to open the output folder from where you can find the converted files.
- Finally, click the Convert All button in the bottom-right corner to start processing the files.
Converter for Tablets
- For Apple and Android users, you often worry about the compatibility between your Apple devices and the downloaded/recorded audio. You can easily make any audio compatible with your iPhone/iPad/Android devices.
- Go to the Converting tab of the Convert section, then click the Add Files button at the top-left corner.
- A File Explorer dialog box will open from where you can select the files you want to convert.
- Click the Open button to add the files.
- Click the drop-down icon Inverted triangle icon beside Convert all files to: to enter the drop down list of the output format.
- Click the Device tab to enter the interface which shows all kinds of output formats for different devices.
- Choose the device brand like Apple.
- Choose the model of the brand with default parameters or customized parameters, double-click it. Then, the selected output format will be shown at the right side of the Converting window.
- Convert the Audio or video to the compatible format for iPhone/iPad/Android Device. Click the Convert All button in the bottom-right corner to start processing.
- Click the Convert button at the right of each audio to convert the related files one by one.
Camcorder Format
Videos from Sony, Canon, Panasonic, JVC video cameras and more with the formats like AVCHD (MTS, M2TS), MOD can't be played on many players or devices. If you want to convert your audio from the camcorder to other format like MP3.
- Connect the camcorder with your computer via the USB cable.
- Go to the Convert section then the Converting tab. And click the drop-down icon drop down icon beside Add Files and then select Add from Camcorder from the drop down list.
- A window will pop up, all the audio from your camcorder will be shown by list. Check the audio files you want to convert, then click the Add to Convert List button to start loading audio files.
- Click the drop-down icon Inverted triangle icon beside Convert all files to: to enter the drop down list of the output format.
- Click the Video tab to enter the interface which lists all of the Audio output formats.
- Select the output format for example MP3.
- Finally, click the Convert All button in the bottom-right corner to start converting the files.
Desktop VS online downloader
Desktop Video Downloader
Online Video Downloader
Pros

It is absolutely free and has No Ads.
No download limits, as many as you want.
Completely safe to download any videos.
High-speed Conversion.
Ability to download Video playlist and video subtitles.

Supports popular video websites: Facebook, Instagram, etc.
No need to install software.

Cons

You need to install a peace of software on your PC.
The ability to download and convert videos.

Some canotains ads.
Support a small range of audio and video formats.
There are some limitation on the file size.
MP4 videos to MP3
MP4 files are used to store and view video, whereas MP3 files are used to store and view audio. Both the MP4 and MP3 file formats have the same lineage – they both come from the Moving Picture Experts Group (MPEG) format of file compression. In addition, both the MP4 file format and the MP3 file format are quite similar when it comes to their properties, with the only major difference between the two being the fact that the MP4 format is for video and the MP3 format is for audio.
Video to mp3 converter works in a pretty simple manner. The MP4 file format contains both video and audio, whereas the MP3 file format only contains audio. An MP4 file can be converted into an MP3 file by simply stripping away its video contents. There are lot of video2mp3 converters and programs that can convert MP4 files into MP3 files.
Combine/Merge audio files
You can cut partial unwanted part of the audio or video clip and merge more than one clip into one again using our tool.
- Click the Add Files button at the top-left corner.
- A File Explorer dialog box will open from where you can select the Audio or videos you need to join.
- Click the Open button to add these files.
- Enable the switch "Merge All" at the bottom-right corner.
- Click the Convert All button at the bottom-right corner to start combining multiple files into one.
Convert videos to MP3
If you download online sound files even if you don't have Internet connection, the below online mp3 converter tool provides this unique feature specially for work with the content of this world-famous site. The tool allows you to download and convert videos from YouTube, FaceBook, SoundCloud, VK and others to MP3. The tool is the fastest and safest tool to convert to MP3 files while providing the best sound quality and very high-quality MP3 files. Use the below tool if you want and online converter rather than use the desktop tool to convert your online videos to mp3.
Video to mp3 converter is really an easy tool and the downloaded MP3 files will be permanently stored on your Samrtphone, Tablet or PC. Download mp3 Tool runs on Windows, Mac, and Linux and works with any web browser like Internet Explorer, firefox, Chrome, Safari and Opera. The downloaded MP3 file can be played on Android phones, iPod, iPad, or any other digital device.
The files are always converted in the highest available quality and the tool can only convert files up to a length of 2 hours - the limitation is necessary, so the conversion of any file will not take more than a couple of minutes. The tool is free and does not require any software or registration.
Video Tutorial: Bellow is a video tutorial showing how to convert Audio or video files to the highest audio quality MP3 format
eb-share" allowfullscreen>
VLC Media Player
- Launch VLC Media Player Application.
- Click on Media Menu
- Select Convert/Save
- In file Select click on Add button to select your MP4 video File
- Click on the Convert/Save button
- In the Settings Section Select Audio-MP3 Profile
- Fill in the Destination file by Browsing to the target folder
- Make sure that the output file name is clear
- Click on Start button
- Wait for the conversion to finish.
Video2MP3 Alternatives Apps
- Freemake Video Converter: Freemake Converter converts video and movies between 500+ formats and gadgets for free! Convert to MP4, MP3, AVI, WMV, DVD, iPhone, Android. Convert Videos to mp3 absolutely free. No trials or limitations. Free Video to mp3 converter tool
Freemake video file converter is a simple video to mp3 converter that supports all popular and rare non-protected formats including MP3, AVI, MKV, WMV, MP3, DVD, 3GP, SWF, FLV, HD, MOV, RM, QT, Divx, Xvid, TS, MTS, and Fraps. Import photos or audio files to turn multimedia to video. Transform multiple clips at once. Codecs included: H.264, MKV, MPEG4, AAC.
- Any Video Converter: Any Video Converter takes videos from your computer or downloaded from the Internet and converts them into just about any format you'd like. 100+ inputs, 160+ outputs. 100% lossless quality, NVIDIA NVENC accelerated encoding. 4K Video flawless downloading.
Any Video Converter is a powerfull video to mp3 converter that works on Windows and MAC OS.
- Digital Wave Free MP4 Video Converter: Free MP4 Video Converter is a simple yet functional tool to convert video files to MP3 format compatible with popular multimedia devices.
Free MP4 Converter makes it easy to convert videos to MP3. Simply select your exact device, screen resolution and other parameters from the larger submenu of MP4 Converter.
You don't need to worry about degradation after converting your video to MP3 format.
Preset Editor lets you edit the video and audio format.
Choose among container type, audio codec, frame rate, bitrate.
Edit audio format and bitrate of the sound to get high-quality MP3 audio.
- TOTAL Video Converter is a extremely powerful and full-featured video converter which converts any video and audio to mp3, avi, iPhone, iPad, mobile, PSP, DVD… and burns video to DVD, AVCHD, Blu-Ray and more…
- MP3 Video Converter: You can convert video files to audio files (MP3, AAC) with various options ( bitrate, meta data). Simple video to mp3 converter app that you can install or your phone.
- HandBrake is a tool for converting video from nearly any format to a selection of modern, widely supported codecs.
HandBrake is Free Open Source video to mp3 converter, that can Convert video from nearly any format and works on Multi-Platform (Windows, Mac and Linux)
- Avdshare Video Converter for Mac: Convert various video and audio formats to AC3, AAC, AIFF, Apple Lossless, ALAC, AU, DTS Digital Surround Audio, FLAC, M4A, MP2, MP3, OGG, Opus, RA, WAV, WMA, etc. Avdshare video to mp3 converter also converts video to image and picture format like GIF, PGN, JPG, TIFF, BMP, SWF, FLV etc.
- Video Converter Android (VidCon) is a free video to mp3 converter on Android. With the background ffmpeg library support, Video converter for Android can convert almost any video formats to mpeg4 and h264 videos, including asf, avi, divx, flv, m2v, m4v, mjpeg, mkv, mov, mpg, ogg, ogv, rm, rmvb, webm, wmv, dv4 etc.
- ParallelAxiom Mp4 Converter: MP4 Video Converter is a Multi format video to mp3 converter. Convert your audio and videos to MP3 or AAC. This beautiful app allows you to convert from any supported video format to any other video/audio format.
Supported audio formats : aac, ac3, mp2, ogg, wav, wma, flac.
- AnyMP4 Free MP4 Converter for MAC: Free MP4 Converter is professional MP4 Video Converting software, which helps you convert any video format to and from MP4 video for playback on iPhone (iPhone X/8/7/SE/6s/6s Plus/6/6 Plus/5s/5c/5/4S), iPad (iPad Pro/Air 2/mini 3/4/Air/mini 2), iPod, and Apple TV. It also supports converting video to HD MP4. It makes it easy to convert 4K/HD videos and common videos like MOV, MTS, MKV, FLV, AVI, WMV, F4V, WebM, WTV, and more to MP4 formats in batch. - Vid2MP3 is a free Android application that lets you convert video files to MP3 format directly on your Mobile and without the use of your PC. Whether you're using an iPod, iPhone, smartphone or tablet, you can listen to your favorite songs while on the go. What makes this application one of the most popular conversion tools out there is that it's very convenient to use.
There's an available online converter as well as a desktop converter software that you can download for free. The online tool has a simple interface. Just paste the video's URL, click "Convert" and wait a while to get converted audio file in the download directory of your browser. The tool works quite effectively when using Video to mp3 converter without loosing the Audio quality.
Supported Bit Rates
128k (CBR), 160k (CBR), 192k (CBR), 256k (CBR)
128k (CBR), 100k (VBR), 130k (VBR), 165k (VBR), 175k (VBR), 190k (VBR), 225k (VBR), 254k (VBR)
Why use our Converter
- Android and iPhones phones are compatible with the MP3 video format.
- Transfer audio files from one phone to another
- Store audio files in one preferred format! - Flexible and simple audio converter.
Quicktime to MP3 Converter
MOV is a popular video format file originally developed by Apple. It was intended to support its QuickTime movie player and often used to save videos, movies, etc. It uses an advanced algorithm especially developed by Apple and is compatible across different versions of Mac and Windows operating systems.It uses the concept of tracks to store data. A track, which stores a particular type of data, is stored in a multimedia container file. There are many such tracks present in the container. There are different tracks meant for holding different types of data like text, audio, video, etc. Such tracks maintain a hierarchy consisting of atoms as an object. MP3 being an industry standard has a larger support for operating systems other than Apple. There are various media players, which support this format in different operating systems. If you are using Mac, MOV is quite safe and efficient, but in case of any non-Apple devices, MP3 proves to be a much better option. Use
Video2mp3
, to easily convert MOV to MP3.
convert MPG to MP3
MPEG is a very popular standard for video compression. It provides high compression levels without significant loss of video quality. The most popular formats based on this standard are MPG and MP4. MPG videos are compressed with MPEG-1 or MPEG-2 video codecs. MP4 is based on the more recent MPEG-4 standard, which is one of the newest video formats in wide use for storing video on computers and mobile devices. To be sure that your audio will play on your smartphone or portable media player, it is best to convert it to a widely supported format, such as MP3. With
Video2mp3
, you can convert both MPEG to MP3 and MPEG to wav. You can also even edit your MPG videos before converting.
MPG and MP4 Comparison Table
| | | |
| --- | --- | --- |
| Comparison parameter | MPG | MP4 |
| File extension | .mpg, .mpeg, others | .mp4 |
| Video coding formats | MPEG-1, MPEG-2 | MPEG-4, H.264, H.265, others |
| Audio coding formats | MP3 | MP3, AAC, AC-3, others |
| Streaming | Yes | Yes |
| Chapters | No | Yes |
M2TS/MTS/MKV to MP4
More and more people pursue to look for HD or 4K UHD video resource for freely watching. It is hard to play M2TS/MTS/MKV videos format on mobile devices because of incompatible issues. To listen to (MKV, M2TS, MTS) HD video on your iPhone iPad Android, you need
Video2mp3
to convert (MKV, M2TS, MTS) HD videos to MP3.
What are MP3 files?
MPEG (The Moving Picture Experts Group) has developed compression systems used for video data. For example, DVD movies, HDTV broadcasts and DSS satellite systems use MPEG compression to fit video and movie data into smaller spaces. The MPEG compression system includes a subsystem to compress sound, called MPEG Audio Layer-3. We know it by its abbreviation, MP3.
MP3 can compress a song by a factor of 10 or 12 and still retain something close to CD quality. So a 30-megabyte sound file from a CD reduces to 3 megabytes or so in MP3. When you download the MP3 file and play it, it sounds almost as good as the original file. If you wanted to, you could download an MP3 file, expand it back to its original size and then record it on a writable CD so you can play it in a CD player. All that you are doing is converting back and forth between different formats to make downloading easier.
Supported Output Formats
MP3: MPEG Audio
WAV: PCM
M4A: AAC
M4B: AAC
M4R: AAC
AAC: AAC
AC3: AAC
MKA: AAC, AC-3, MP3 RAM: Real Audio
OGG: Vorbis
Fix No Sound problem
The problem appears only when playing mp4 video files. So what is the problem?
Reason 1: The MP3 container file was encoded with audio codec that is not supported by the media player application. You need to check which of the following codecs (ALAC, AC-3, MP3, LPCM, Opus, AAC, WMA, DTS, DTS-HD) is used in your MP3 file and download it.
Reason 2: The MP3 file may be corrupted or your media player installation was not complete.
What are the available fixes
If the issue is due to corrupted media player installation, you can fix it by simply uninstall it and then reinstalling the right way or you can use other media player like
vlc player
.
If the mp3 no sound problem is caused due to corrupted MP3 file, you will need to repair the file and the result may vary depending on the extent of damage.
You can use 'Digital Repair' which is a free tool, that Repairs Mpeg files in just a few clicks! Digital Repair will fix broken MP3, MOV & AVI files encoded with Xvid, DivX, MPEG4, 3ivx codecs, helping achieve a perfectly smooth viewing experience. Playing corrupted files can result in blotchy or jerky playback, lockups, visual artifacts and audio-video out of sync.
Repair MP3 File
MP3 file is a file that is usually used for storing Audio content. Basically, MP3 is the extension name given to a MPEG-4 audio file. It is a type of a compressed audio format that is supported by both Windows and Mac operating systems. You can easily play an MP3 audio file using Windows Media Player as well as QuickTime. Aside from these two Media Players, MP3 audio files can be played using VLC Media Player as well. An MP3 audio file is quite vulnerable when it comes to damage and corruption
The following are some of the conditions that can lead to an MP3 audio getting corrupted.
1- Accidental Power Outage: If the power goes out suddenly while an MP3 audio is being transferred from your PC to your handheld device or a USB then it can get corrupted.
2- Computer Viruses: Attacks from computer viruses are one of the biggest causes of MP3 audio corruption. Faulty Storage Devices: If you converted videos to mp3 using free video2mp3 converter and the storage devices like hard disks can have bad sectors present on them which can cause the MP3 audio to get damaged or corrupted quite easily.
3- Converter Errors: If an unreliable converter is used for the purpose of converting MP3 audio to other digital formats then there is a chance for them to get corrupted too.
Audio Formats
The most common of Audio Format are MP3 (MPEG-2 Audio Layer III) and WAV was one of the first audio-formats. The MP3 format wasn't born yesterday. On average, one minute of WAV formatted sound requires around 10 megabytes of memory. The MP3 format is the fruit of research, so an audio track in MP3 format could require 10 times less storage than an uncompressed wave file. A codec is an algorithm of encoding and compressing data into an audio format. For some file types there is a specific codec assigned. The MP3 also became the format most commonly used by Internet radios, and still is to this day. Some formats, such as MP4 or FLV can store both audio and video streams.
Currently MP3 is not the best format in terms of a file size to the sound quality but it regained popularity with the emergence of online streaming services. Moreover, the MP3 format at medium bit rate (320 Kbits) ensures completely satisfactory results for a small hi-fi system, wireless speaker, or Bluetooth headphones so many people prefer storing their records in this format. AAC is a patented audio-format that has higher capabilities (number of channels, discretion frequency) as compared to MP3. OGG is an open format that supports audio encoding by various codecs. WMA (Windows Media Audio) is a format owned by Microsoft Corporation. FLAC is a common lossless format, nevertheless, it is rather unlikely that a lossless format such as the FLAC or DSD format completely replaces the MP3 standard
Lossless Codecs
FLAC (Free Lossless Audio Codec)
APE (Monkey's Audio)
ALAC (Apple Lossless Audio Codec)
Lossy Codecs
MP3
WMA
OGG
AAC
Conclusion
To conclude Video2MP3 Converter works on Android operating system(s) and can be easily downloaded using the below download link according to Commercial license. Video2MP3 Converter download file is only 16.82 MB in size.
Video2MP3 Converter was filed under the Audio and MP3 category and was reviewed in softlookup.com and receive 5/5 Score.
Video2MP3 Converter has been tested by our team against viruses, spyware, adware, trojan, backdoors and was found to be 100% clean. We will recheck Video2MP3 Converter when updated to assure that it remains clean.
Video2MP3 Converter user Review
Please review Video2MP3 Converter application and submit your comments below. We will collect all comments in an effort to determine whether the Video2MP3 Converter software is reliable, perform as expected and deliver the promised features and functionalities.
Popularity 10/10 - Downloads - 25180 - Score - 5/5

Softlookup.com 2023 - Privacy Policy
Category:
Audio and MP3
Publisher:
A GRADE
Last Updated:
14/10/2023
Requirements:
Not specified
License:
Commercial
Operating system:
Android
Hits:
31449
File size:
16.82 MB
Price:
Not specified
Name: *

E-Mail: *

Comment: *