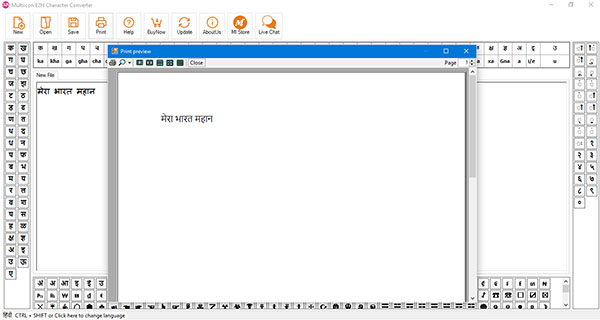 Easy and Fast English to Hindi Converter and typing translation software. Typing in Hindi can be done as easily as typing in English
English to Hindi Converter is a software that allows users to translate text from English to Hindi. This can be used in a wide range of different ways such as providing an easy way of learning the Hindi language , hindi to english translation app and for creating subtitles to add to English language films and documentaries .
With the efficient of the easiest English to Hindi converter and Typing Software, you can transliterate English to Hindi for typing. E2H is very easy to install and is extremely lightweight and with all text editors you can use the Hindi typing software effortlessly. With special features like real-time typing assistance, full Hindi keyboard help, real-time and smart word suggestions based on your history as well as formatting support, E2H is the best English to Hindi converter character and typing translation software at reasonable rates.
One of the great things about English to Hindi Converter is that it features a two pane style so that users can view the original English text and the Hindi translation at the same time. This helps to make the translation process much smoother and adds extra scope to the tool. While the software is designed to be easy to use, it also comes complete with a short tutorial and troubleshooting questions to make things even easier for anyone who is using this type of software for the first time and some of the features can even be customized in order to meet the unique needs of the user.
Hindi, being national language of India and also the 4th most spoken language in the world, holds its own significance. Since it is extensively used in most formal documentation in public and private sector in India, typing in Hindi and hindi to english translation app become a vital need. Perhaps, the easiest way for anyone to type in Hindi using English keyboard is using the quick and efficient Hindi typing software. E2H actually transliterates English key strokes into Hindi letters with no annoying character mapping in keyboard.
Understanding of every character of Hindi while typing becomes much simpler with the supportive and clean user interface.The latest 10.0 version of E2H Hindi typing and transliteration software, also includes word suggestions based on history tomake typing quicker and accurate.Perhaps, it is not just the character converter – rather it contains all the character keys of Hindi language present in the software's user interface considering fast and reliable Hindi input for those perfectly typed formal letters. In addition, transfer your text to Microsoft Word and Word applications with simple copy-paste command.
Converter English to Hindi unique features
- English to Hindi typing editor (Human Phonetic Language)
- Real-time typing assistance on keyboard
- Full Keyboard support with virtual Hindi keyboard
- Fast Hindi to English translation app
- Smart word suggestion based on history
- Documents and Spreadsheet support
- Rich document editor features
- Formatting, Tables, Bullets, Alignments, Header-Footer, etc. supported
- Export to PDF, BMP, GIF, JPEG, PNG, TIFF and many more
Converter English to Hindi will help you to convert hindi ASCII text to unicode text or unicode text to ASCII text. This is a very handy tool and you can try this converter few times so that you get idea how does it works. Converter English to Hindi is a simple tool that gives you a clean interface to easily type in Hindi on computer and do English to Hindi translation (conversion). This tool automatically converts the Roman text into Hindi Unicode font. For example, if you need to type "भारत" just type "bhaarat" in the above box. The English text will convert into Devanagari text. Unicode is a standard that defines all the letters in all the languages around the world. Text typed in Unicode can be read on all the computers without installing any extra piece of software. It is always recommended that you type Hindi in Unicode. The tool gives you Unicoded text. So, you copy the Hindi text from above box and paste it anywhere in the computer; for example Gmail, Facebook, Twitter, MS-Word document etc. Hindi is written using Devanagari script. This script is also shared by several other languages including Sanskrit, Marathi and Maithili. Hindi typing on computer picked up pace when Unicode standard was defined for Hindi. Earlier, Hindi was written on computers using legacy, non-Unicode fonts like Krutidev, Shusha, Shiva and Chanakya.Hindi is a major language in India. It is understood in most parts of the country but states like Delhi, Uttar Pradesh, Bihar and Madhya Pradesh constitute a so-called Hindi Belt. These are the states where Hindi is the lingua franca. Use of Hindi on computer, Internet and mobile devices is fairly popular. Hindi speakers want to type status messages on WhatsApp, posts on Facebook and emails in Hindi so they really need fast Hindi to English translation app.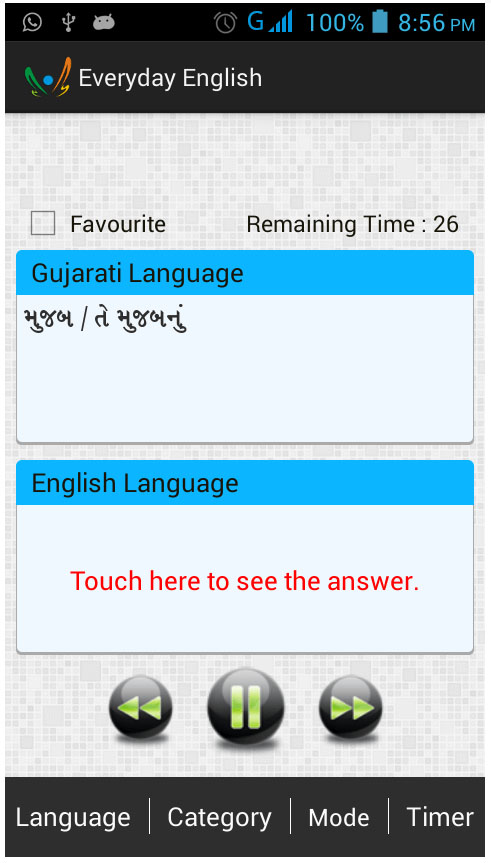 Converter English to Hindi on Android
Everyday English (Mobile Version) English learning mobile app Everyday English is the first English learning language app designed to help you with reading, remembering and speaking concepts. The app consists of words, phrases and sentences that are useful in everyday life and includes the meaning of them in Hindi as well as Gujarati for better understanding as well as remembrance. The app is well-off with rich database of words so it doesn't require any additional efforts to learn English through Gujarati or Hindi. Download the hindi to english translation app now for free, no hidden charges included.
The first ever mobile application working on the concept of Read, Remember and Speak which can help you to enhance your competency in the English/Gujarati/Hindi Language by sparing some minutes of the day.
The free offline Everyday English application helps you in learning English through Gujarati and Hindi at your convenient time.
The comprehensive Everyday English includes:
Words and phrases of day to day life.
Most Common Sentences used in routine conversation
Idioms and Proverbs
Questions that we ask everyday
Add to your favorite category
Test mode to build your confidence
There is no additional effort required to learn English through Gujarati and Hindi now. You just see the words/sentences on the screen and try to use them. It's very simple. The words/sentences will appear randomly on the screen.
Additional features include the facility of changing of language, categories, modes and timings.
You can even test yourself and make a favorite category of your own.
Internet connection is NOT required to use Everyday English, and it's free.
Indian Language Typing in Android Phone
If you want to type in your language with English read this article and follow the steps to Enable your language typing threw English. This app is free and provided by Google. this app will help you type in Indian languages like Hindi, Marathi, Punjabi, Kannada or all other Indian language by transliteration method.
In android phone we can easily type in Hindi, Marathi, Punjabi, Gujarati, Tamil, Telugu, Malayalam, Bengali, Odia, Kannada and Assamese (Total 11 Indian language supported by this software) with simply download one app from google play store and enable simple setting for Hindi (or your language) type in android phone. This is very simple method of type in Hindi(as well as 10 other Indian languages also) in Android phone, this app will convert English in Hindi (or your language). Keep in mind English to Hindi typing is known as "Hinglish". Follow given steps to enable Hindi typing (or your language) in android phone:
- Download Google Indic Keyboard App from play store
- Indian Regional Language Typing in Android Phone
- Now select "English & Indic Languages" and click on "Set up Input Method".
- In options page select "Hindi & Hinglish"
- Cilck on English to Hindi or Hinglish.
- You can change the keyboard by press and hold space bar key it will open keyboard option, you can change back to English or Hinglish.
- To change setting again and go to -> settings -> languages & input
- On options page change or set another language and input method
Modern Standard Hindi or simply Hindi, is a standardised and Sanskritised register of the Hindustani language. Hindi is one of the official languages of the Union of India, and the lingua franca of the Hindi belt languages. Easily translate word from English to Hindi using the H Dictionary. Now translate English words to Hindi easily on personal computer. It has largest collection of English words in dictionary. This dictionary shows exact meaning along with words & meaning adding facility. With latest updated version, words made even more productive and effective to enhance your Hindi language. In addition, you can search English word with Hindi meaning from any application.
Database of 50,000+ English Hindi words.
Dynamic Searching in English or Hindi
English words with Standard Pronunciation.
Words & meaning adding facility.
Hindi Virtual Keyboard.
Search English word with Hindi meaning from any application.
Hardware Requirements
OS : Windows XP, Windows Vista, Windows 7, Windows 8, Windows 10
Processor : Pentium IV compatible or higher processor
Memory : 512 MB RAM
Disk Space : 100 MB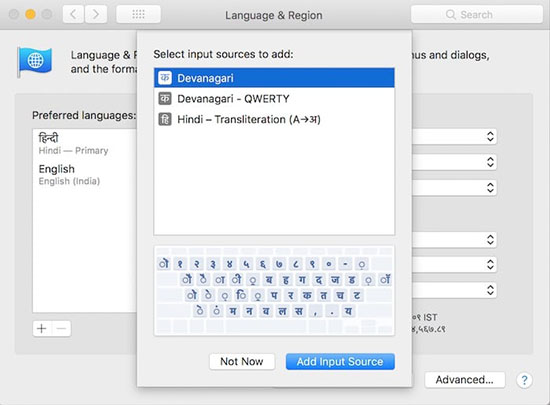 How to Enable Hindi on Mac
You can use your Mac entirely in Hindi by enabling it as the default language. This will essentially translate every text element of the interface from the currently configured language like English.
Go to Mac's "System Preferences" either from the Launchpad or simply searching through Spotlight. There, look for "Language and Region". Now add Hindi as the primary preferred language. In the pop-up, you'll need to find Hindi. Tap the 'H' key for quickly jumping to the particular section. Double click Hindi and Click the blue "Use Hindi" button then reboot the Mac. There are a few other Indian languages available including Bengali, Assamese, Bhojpuri but these are not completely compatible with Mac's system elements. Apple as of now has only added support for Hindi.
How to Type in Hindi on a Mac
Typing in Devanāgarī (the Hindi script) on your Mac computer is simple to set up and relatively easy to master. Here I'll walk you through how to enable a Devanāgarī keyboard layout, how to conveniently switch between keyboards, and finally what software to use for writing in Hindi. The following instructions have been written according to OS X 10.11 (El Capitan). If you are running an older operating system, the steps may be slightly different.
Enable a Devanagari Keyboard
Go to System Preferences
Click on Keyboard
Highlight the Input Sources tab
Click on the + sign
Scroll down in the list of languages and select Hindi
Highlight Devanagari – QWERTY and then click on Add
You'll notice that you have three different keyboard layout options:
Devanagari
Devanagari – QWERTY
Hindi – Transliteration
The "Devanagari" option potentially allows you to type faster in Hindi once you've invested the time to learn its layout. "Devanagari – QWERTY" is basically phonetic and so it allows you to start typing in Hindi with some degree of fluency from the get-go. "Hindi – Transliteration" requires you to write in Roman letters while the system guesses what word you're trying to write in Hindi (and it gives you several options). Overall, I would recommend starting with "Devanagari – QWERTY."
Create a System for Easily Switching Keyboards
Back on the Input Sources tab of Keyboard within System Preferences, check the box that says, "Show Input menu in menu bar"
Now click on the Shortcuts tab
Within the left-hand box, click on Input Sources
Check the box that says, "Select the previous input source"
Now within the left-hand box, click on Spotlight
Uncheck the box that says, "Show Spotlight search"
You can now easily switch between your English and Hindi keyboards. On your system menu bar (the very top of your screen) you should now see a flag associated with the language of the keyboard you're currently using (e.g. it'll be an American flag if you're running American English). To switch the keyboard to Hindi, you can left click on that flag and choose your Hindi keyboard (e.g.क Devanagari – QWERTY). Alternatively, you can simply press 'command' and 'space bar' together to swap back and forth.
Enable Keyboard Viewer
The built-in Keyboard Viewer is the best way to quickly learn the Hindi keyboard you've installed. To enable the Keyboard Viewer:
Go to System Preferences
Select Keyboard
Within the first tab (called "Keyboard"), check the box near the bottom where it says, "Show Keyboard, Emoji, & Symbol Viewers in menu bar
You can now access the Keyboard Viewer by clicking on the language input icon in the system menu bar and choosing "Show Keyboard Viewer".
Hindi to English translation App
1-
Hindi English Translator
Hindi English translator is the top Hindi translator for English learning and English translator for Hindi learning available for play store! Try this free offline Hindi to English language learner and English to Hindi learning app to enjoy accelerated learning without spending a dime! With this best talking translator pro app you can easily translate words and text from Hindi to English and from English to Hindi. You are able to translate words & even sentences, in just a split second.
You can learn Hindi language by taking free education app course of English to Hindi translation and Hindi to English translation. Learning English using Hindi or Hindi using English has never been easier! Let this app be your best friend as a Hindi translation teacher for easy & fast native speaker translations with Hindi translate educational app, which can be used like a language learner dictionary. If you are a student, tourist or traveler, this talking translator training teacher will teach you to learn languages fluently! Learn & Master the pronunciation as Hindi English Translator has in built pro voice text translator feature. Use our free text translator for English Hindi translation to & from English. Hear the translated text with talking Hindi app English translation feature & conveniently communicate with your friends, girlfriends, boyfriends, family members or tourists with accurate pronunciation. Simply type or paste Hindi or English text & tap to learn the phonetic Hindi language for free. For Students – you can now complete your language homework & assignments easily with Hindi English translator.
So, improve your education and speaking skills, unlock new travel destinations, achieve more employment potential & enjoy amazing books & vocabulary with the phonetic language of Hindi by using offline English Hindi text talking language learner dictionary to talk like native Hindi or native English speakers. Use hindi to english translation app to translate Hindi to English or translate English to Hindi, as you desire! Install top new free English Hindi translation tool to broaden your future prospects of learning foreign languages with Hindi vocabulary or English vocabulary by use of the best English & Hindi learning android application.
If you are a Traveler or Student or Hindi or English language learner enthusiast then this new, fast and latest technology English Hindi translation converter. Although English Hindi translator does not provide definitions or any examples, but mechanism is easy to understand the meanings of English speaking or Hindi speaking native speakers. Try the new educational Hindi English app translator to become dual translator expert for speaking fluent foreign languages for FREE!
Features of Hindi to English translation app:
- Translate words & sentences by typing or pasting the text from clipboard
- Simple, compact & user-friendly easy language translator interface
- History tracking for Instant search of previously translated words
- Useful & most convenient trainer features
- Editable history or favorites' lists
- Learn English and Hindi translated language
- Can be used as an dictionary for Hindi / English conversions
- It helps the tourists during travelling
- Useful for students & people who want to become multilingual
- Advanced voice translation features for accurate pronunciation
HOW TO USE:
- Write text to input a word or sentence
- Tap to translate the written text
- Tap to listen to the translated text with easy language voice translator pro
- Add words to favorites list by simple tap in order to view it later
2-
Hindi-English Translator
This Free hindi to english translation app can quickly translate from Hindi to English and English to Hindi (हिन्दी-अंग्रेजी अनुवादक) words as well as complete sentences. Instant translation and the full validity of the words.
- This App will be very useful to people studying a foreign language (travelers, students and everyone who raise their level of language)
- Its interface is very simple and easy to use
- Due to the favorites list and the history you can look through the translated information offline
Software features:
- Translation of words and phrases.
- Voice input
- Favorites
- History
- Interface settings.
Hindi Character Code
On Hindi keyboard some of the Hindi Characters are not availabe to type. These special characters can be typed by using the combination of Alt key and numeric value. Below is a list of Kurti Dev or Devlys Font and Remington Keyboard Alt Key Code for Typing Special Hindi Character code.
Type Alt + Given Code to Type Special Hindi character Code
| Letter | Code |
| --- | --- |
| चन्द्र बिंदु | ALT+161 |
| फ़ख्र | ALT+163 |
| पात्र | ALT+165 |
| ट्र | ALT+170 |
| आधा त्र | ALT+171 |
| आधा फ | ALT+182 |
| आधा य | ALT+184 |
| बड़ा ऊ | ALT+0197 |
| गद्दी | ALT+0204 |
| खट्टा | ALT+0205 |
| गट्टर | ALT+0206 |
| ड्डू | ALT+0207 |
| ड्ढ | ALT+0212 |
| क्रम | ALT+0216 |
| रत्ती | ALT+0217 |
| फ्राई | ALT+0221 |
| ह्रास | ALT+0225 |
| ह्रदय | ALT+0227 |
| भक्ति | ALT+0228 |
| अन्न | ALT+0233 |
| स्रोत | ALT+0243 |
Type Alt + Given Code to Type Numeric Hindi character Code
| संख्यात्मक चरित्र | Letter | Code |
| --- | --- | --- |
| १ | 1 | ALT+131 |
| २ | 2 | ALT+132 |
| ३ | 3 | ALT+133 |
| ४ | 4 | ALT+134 |
| ५ | 5 | ALT+135 |
| ६ | 6 | ALT+136 |
| ७ | 7 | ALT+137 |
| ८ | 8 | ALT+138 |
| ९ | 9 | ALT+139 |
| ० | 0 | ALT+140 |
Hindi Consonants
क
ख
ग
घ
ङ
च
छ
ज
झ
ञ
k
kk
g
gg
gggg
c
cc
j
jj
jjj
ट
ठ
ड
ढ
ण
त
थ
द
ध
न
ttt
(T)
tttt
(TT)
ddd
(D)
dddd
(DD)
nn
t
tt
d
dd
n
प
फ
ब
भ
म
य
र
ल
व
p
f
b
bb
m
y
r
l
v
श
ष
स
ह
ss
(S)
sss
(SS)
s
h
Hindi Vowels
ा
अ
आ
ऄ
ि
ी
इ
ई
ु
ू
उ
ऊ
a
aa
(A)
aaa
(AA)
aaaa
i
ii
iii
(I)
iiii
(II)
u
uu
uuu
(U)
uuuu
(UU)
े
ै
ए
ऐ
ॅ
ॆ
ऍ
ऎ
ो
ौ
ओ
औ
e
ee
eee
(E)
eeee
(EE)
eeeee
eeeeee
eeeeeee
(EEE)
eeeeeeee
(EEEE)
o
oo
ooo
(O)
oooo
(OO)
ॉ
ॊ
ऑ
ऒ
ृ
ॄ
ऋ
ॠ
पं
प़
पँ
पः
ooooo
oooooo
ooooooo
(OOO)
oooooooo
(OOOO)
rrr
rrrrr
rrrrrr
(R)
rrrrrrr
(RR)
pz
pzz
pzzz
pzzzz
Commonly used Hindi Conjunt Consonants
क्ष
ज्ञ
त्क
द्व
द्य
द्द
त्त
श्र
ccc
jjjj
txk
dxv
dxy
dxd
txt
ssxr
त्र
र्प
प्र
ट्र
ह्य
ह्म
द्म
txr
rxp
pxr
Txr
hxy
hxm
dxm
Conclusion
To conclude English to Hindi Converter works on Windows operating system(s) and can be easily downloaded using the below download link according to Shareware license. English to Hindi Converter download file is only 56 MB in size.
English to Hindi Converter was filed under the General category and was reviewed in softlookup.com and receive 5/5 Score.
English to Hindi Converter has been tested by our team against viruses, spyware, adware, trojan, backdoors and was found to be 100% clean. We will recheck English to Hindi Converter when updated to assure that it remains clean.
English to Hindi Converter user Review
Please review English to Hindi Converter application and submit your comments below. We will collect all comments in an effort to determine whether the English to Hindi Converter software is reliable, perform as expected and deliver the promised features and functionalities.
Popularity 10/10 - Downloads - 1389 - Score - 5/5

Softlookup.com 2021 - Privacy Policy
Category:
General
Publisher:
tomp4-home-education
Last Updated:
10/28/2019
Requirements:
Windows XP, Windows Vista, Windows 7, Windows 8, Windows 10
License:
Shareware
Operating system:
Windows
Hits:
2671
File size:
56 MB
Price:
Not specified
Name: *

E-Mail: *

Comment: *